Mai 2019 j'ai été invité à suivre la plantation d'un nouveau vignoble dans le Sud-Est de l'Espagne, à mi-chemin entre Valence et Alicante, à Guadalest (lieu dit « Mona »). 
May 2019 I was invited to follow the creation of a new vineyard in south-eastern Spain, located halfway between Valencia and Alicante, in Guadalest (place called «Mona»).
En mayo de 2019 fui invitado a presenciar la plantación de un nuevo viñedo en el sudeste de España, a mitad de camino entre Valencia y Alicante, en Guadalest (lugar llamado « Mona »).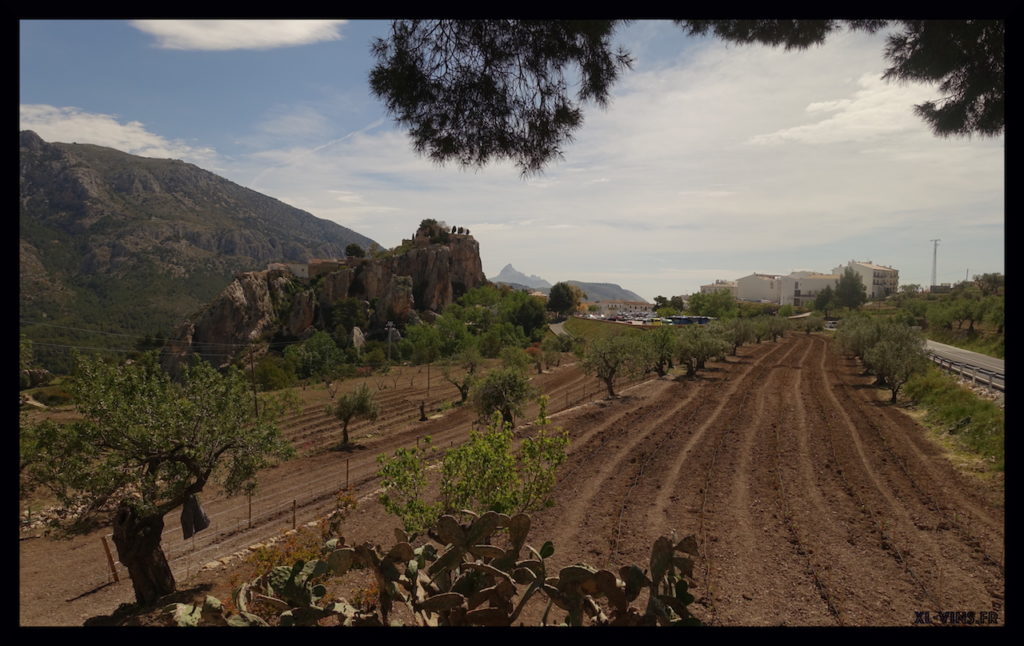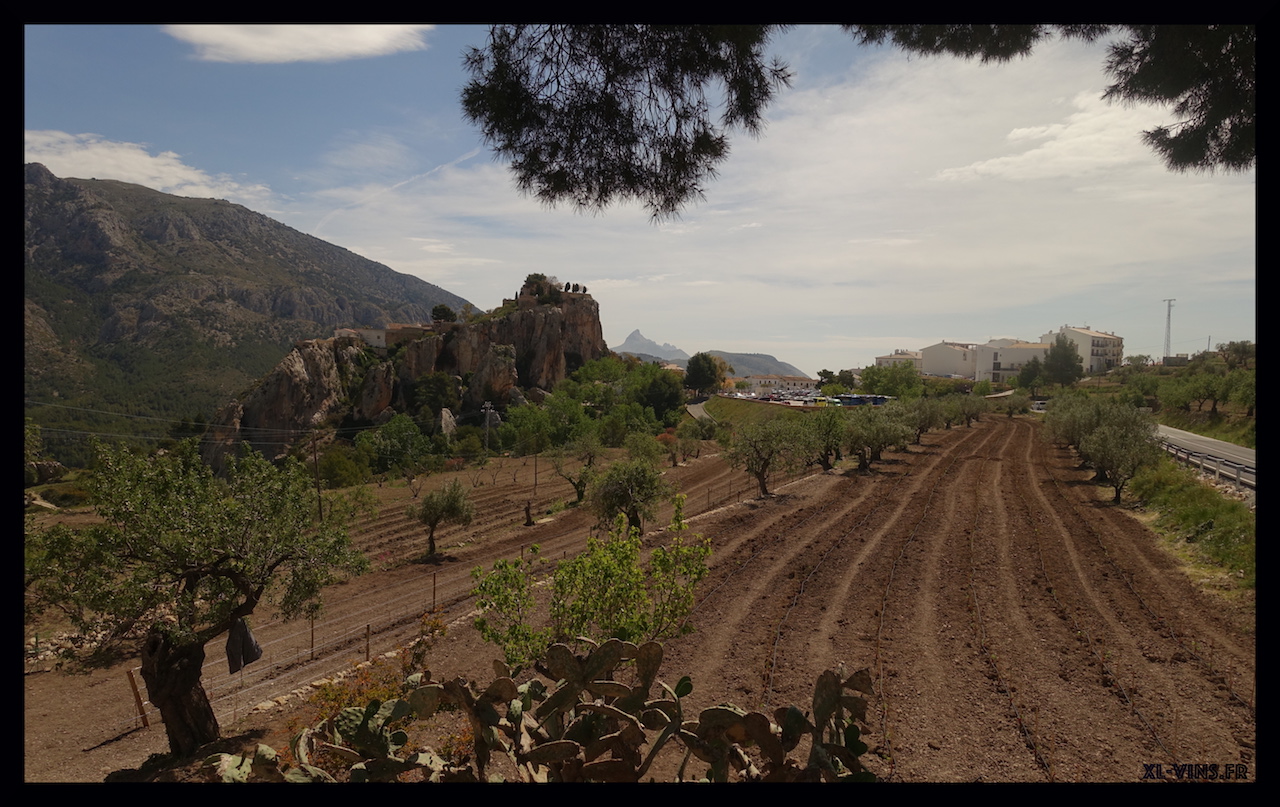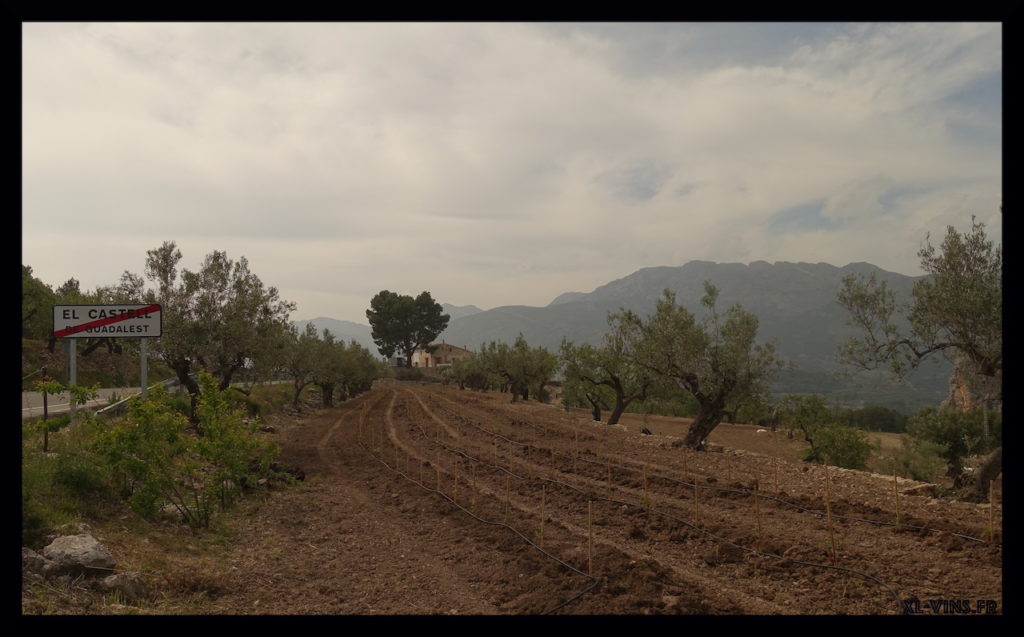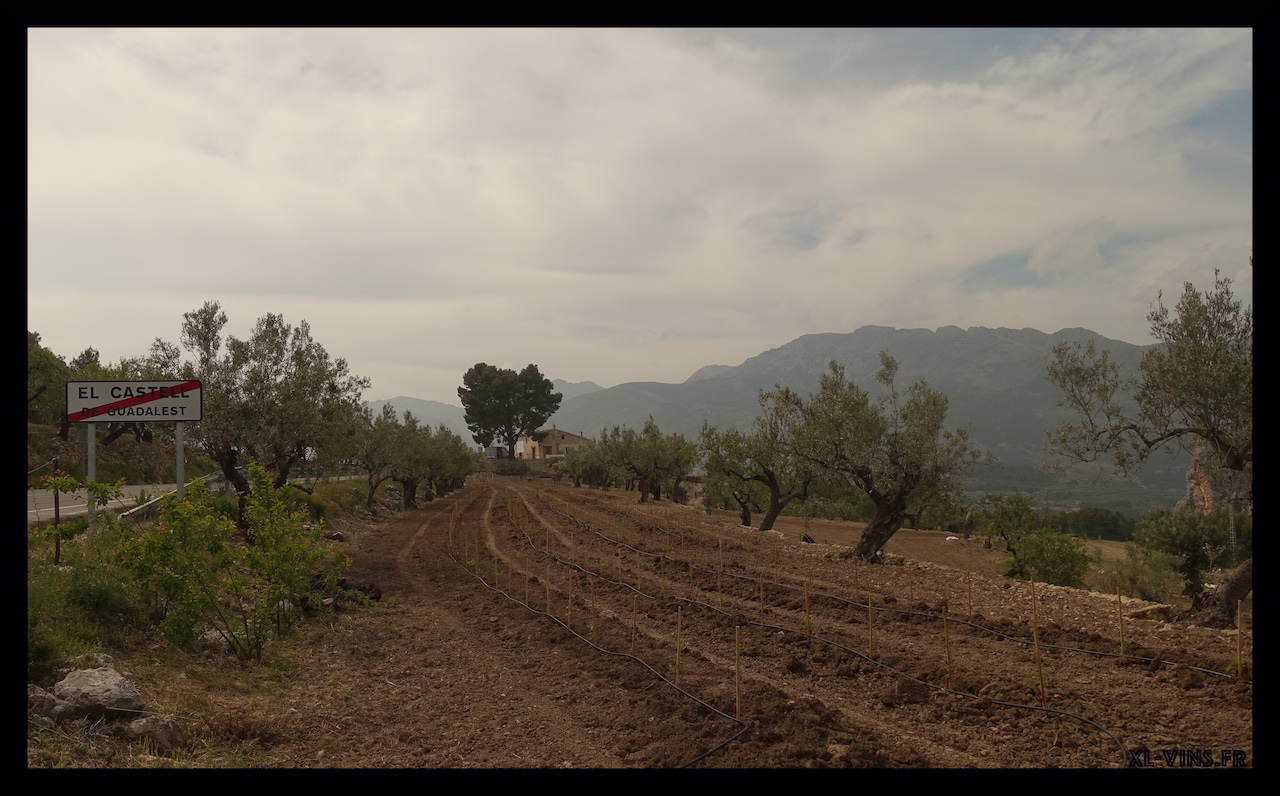 Guadalest se trouve à 20 kilomètres de la Mer Méditerranée. Ce nom ne vous dit rien ? 2 millions de touristes y défilent chaque année, pour y admirer notamment son chateau: El castell de Guadalest, classé parmi les plus beaux villages d'Espagne. A 20 minutes de route se trouve également une célèbre station balnéaire de la Costa Blanca : Benidorm.
Le climat est tempéré à chaud avec une température moyenne annuelle de 16°C et une pluviométrie annuelle de 526mm (source: Climate data.org). Nous sommes sur des coteaux dont l'altitude varie jusqu'à 700 mètres .  
Pour vous parler de la beauté du site, des photos valent mieux qu'un long discours !
Guadalest is 20 kilometres from the Mediterranean Sea. Guadalest may not be speaking to you ? And yet approximately 2 million tourists come there every year, to admire among other things its castle, El castle de Guadalest, classified in the most beautiful towns of Spain. We are at 20-minute drive from Benidorm, a famous seaside resort on the Costa Blanca.
The climate is temperate  to warm with an average annual temperature of 16°C and an annual rainfall of 526mm (source: Climate data.org). We are on hillsides with an altitude of up to 700 meters .
But pictures are better than a long speech for showing you the beauty of the site !
Guadalest está a 20 kilómetros del mar Mediterráneo. ¿No le dice nada ese nombre? Unos 2 millones de turistas desfilan cada año, para admirar entre otras cosas su castillo, el Castell de Guadalest, clasificado entre los pueblos más bellos de España. A 20 minutos en coche, se encuentra un famoso balneario de la Costa Blanca: Benidorm.
El clima es templado a cálido con una temperatura media anual de 16°C y una pluviometría de 526 mm (fuente Climate data.org). El viñedo se encuentra en las laderas de colinas con altitudes de hasta 700 metros.
Para hablar de la belleza del sitio, las fotos valen más mil palabras!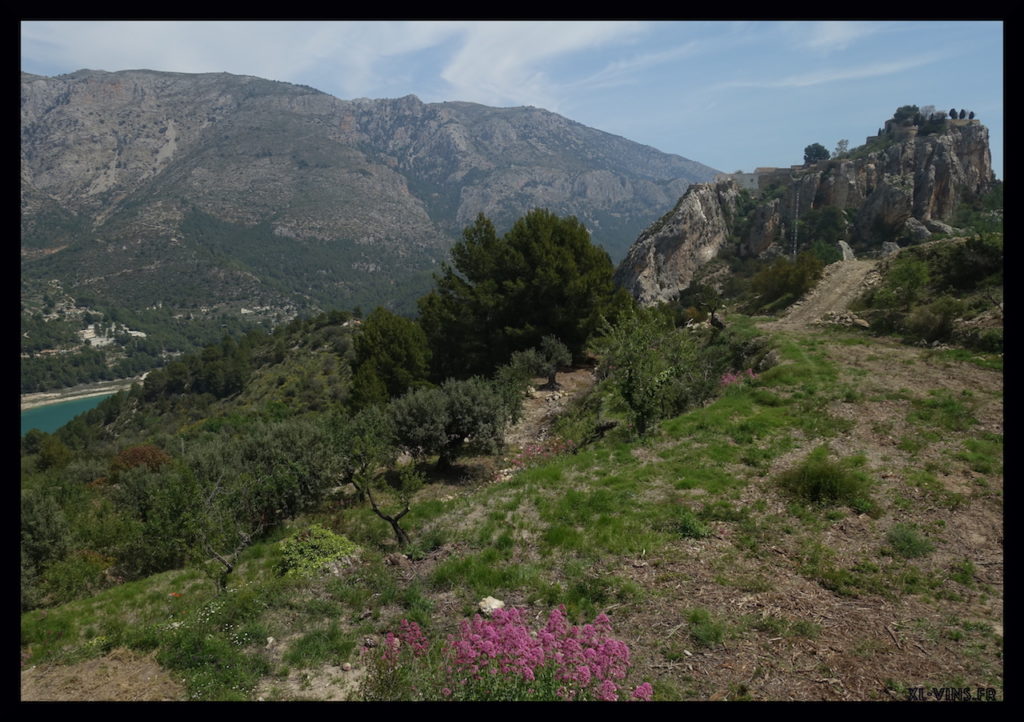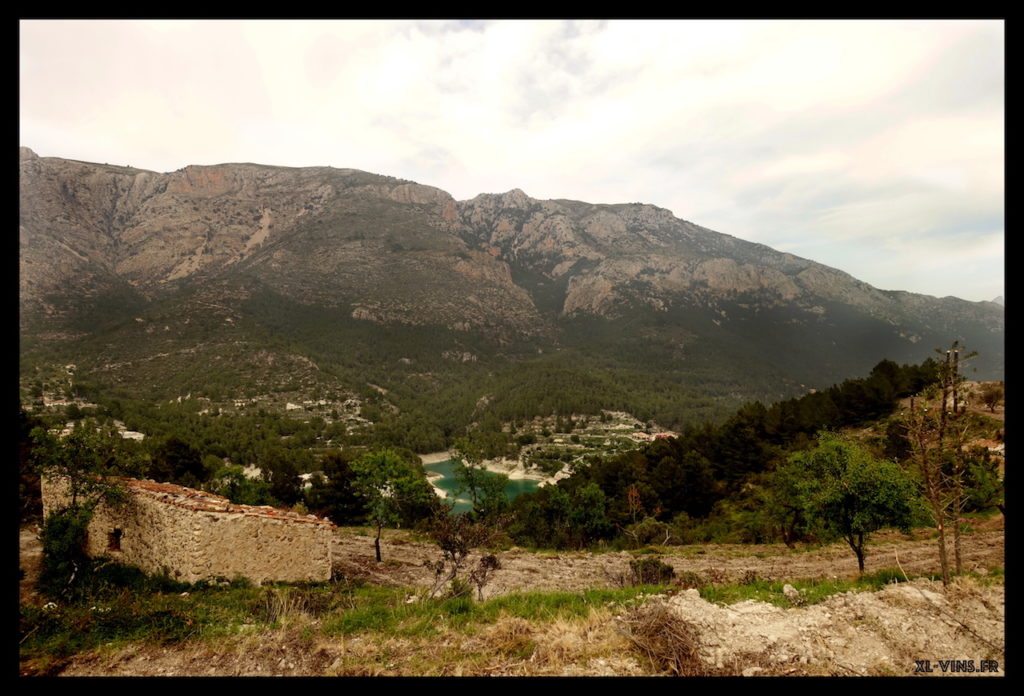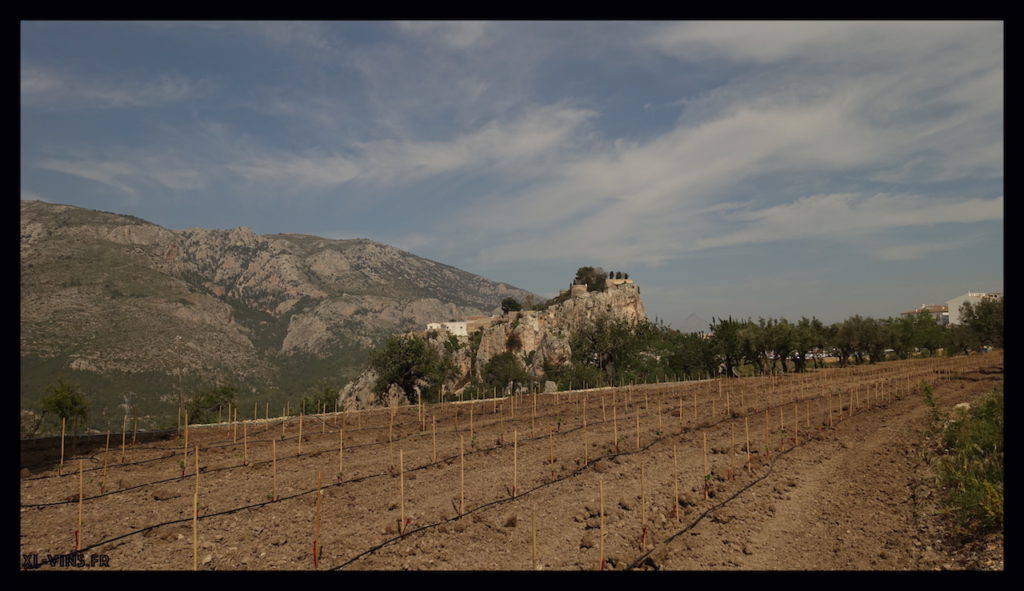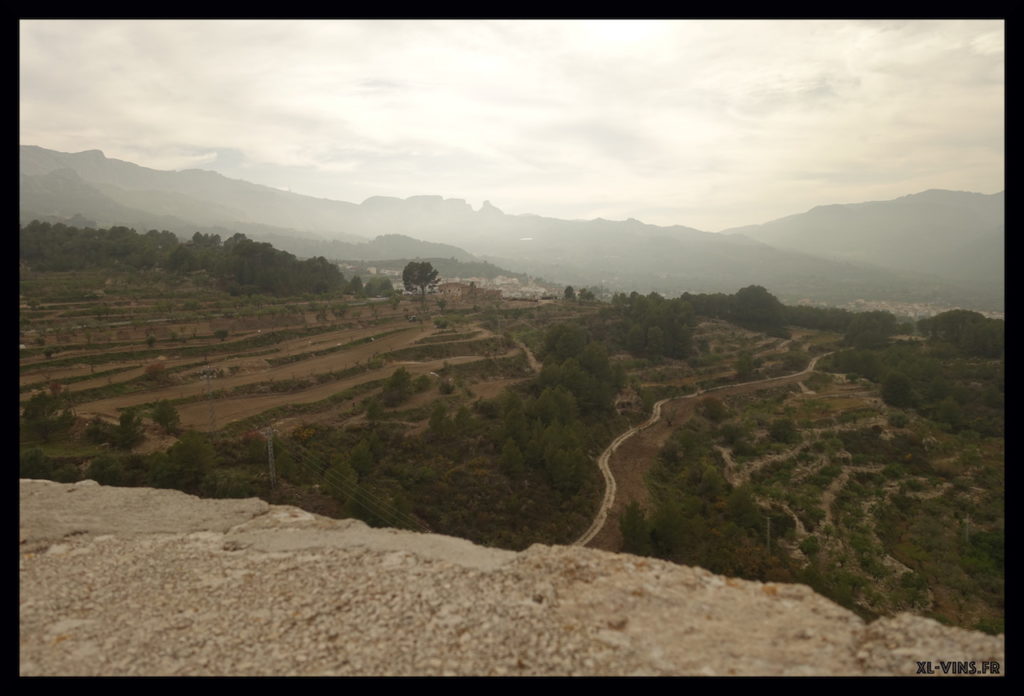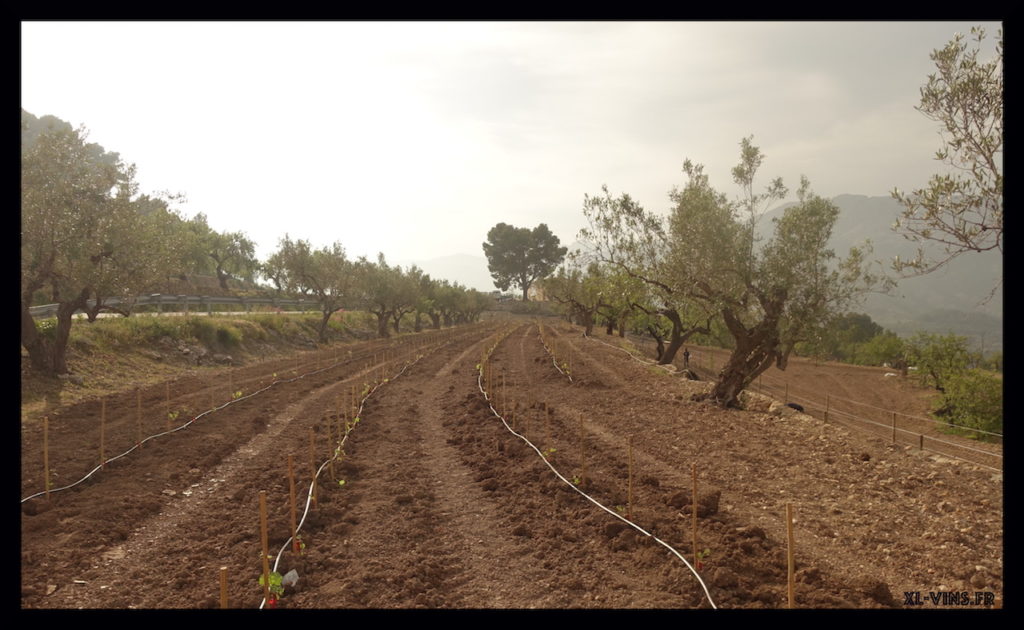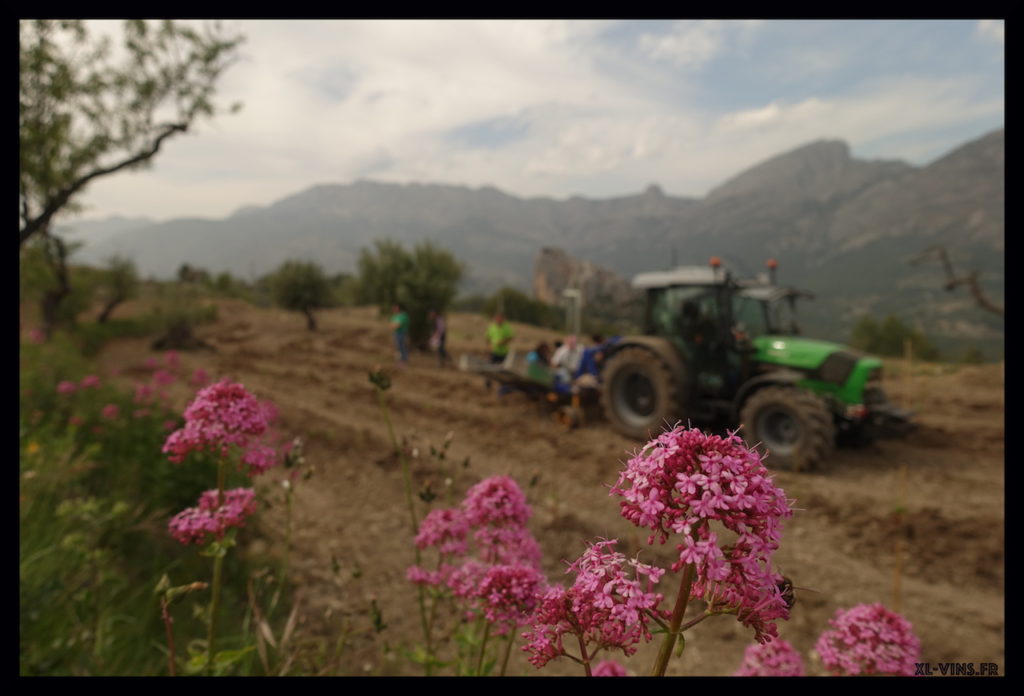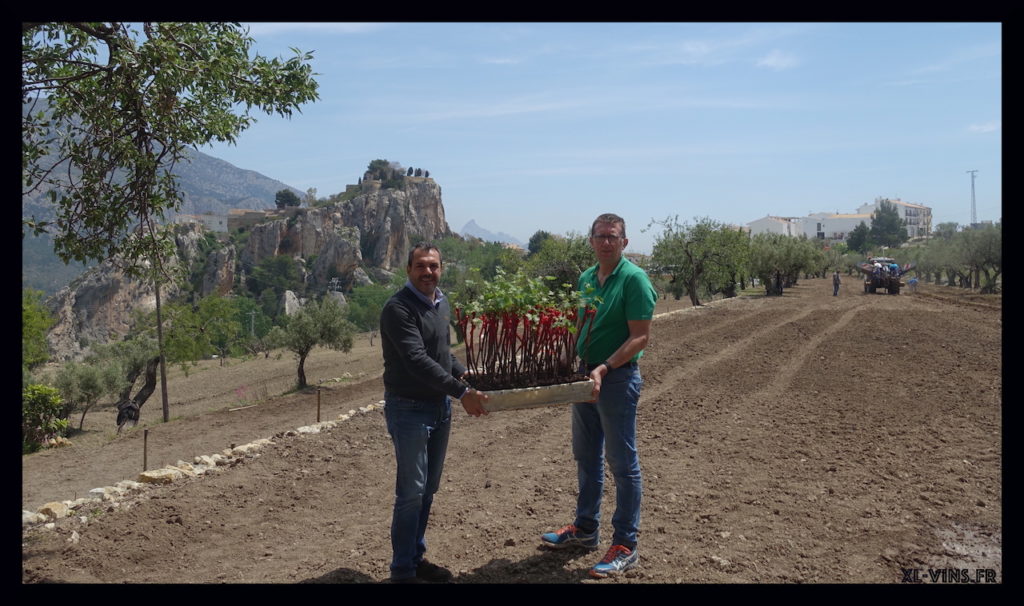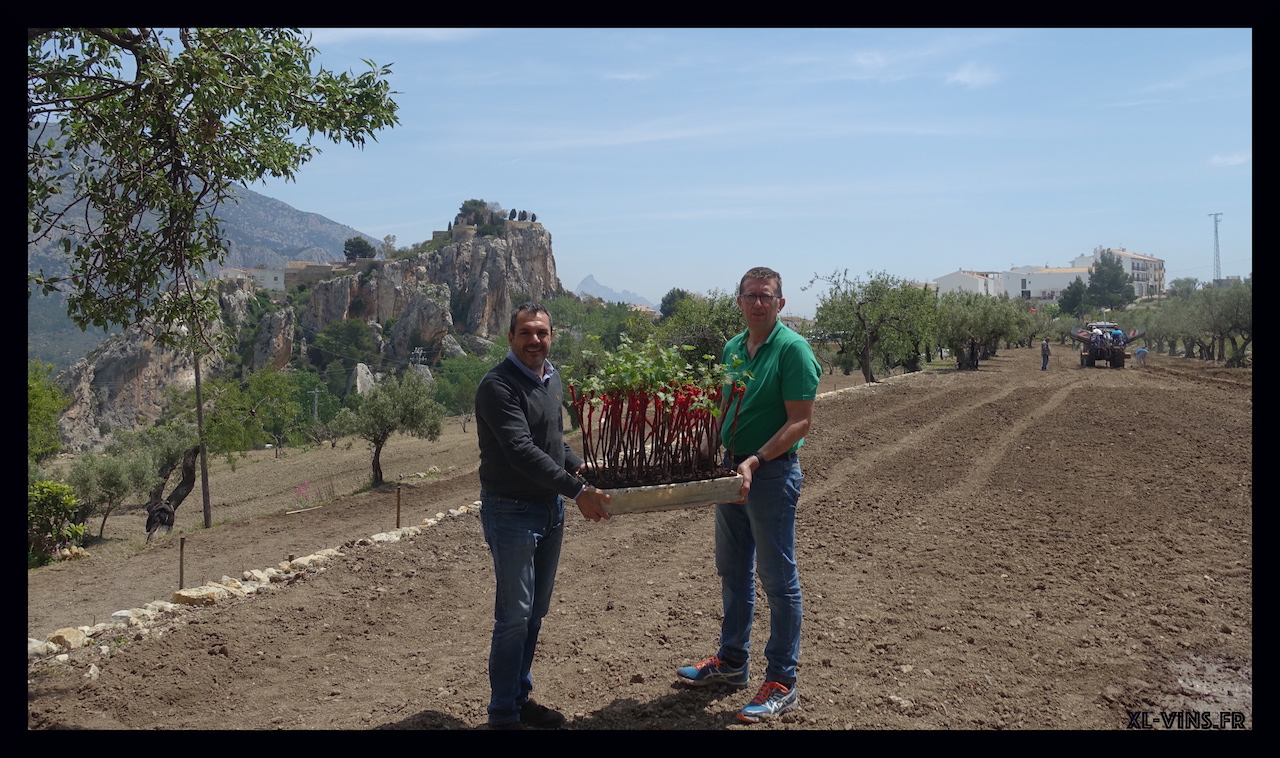 Le projet on le doit à la famille Vidal*. 5 frères : Javier, Pépé, Emilio, Juanfer et Sergio. Sergio Vidal est à l'origine de la fameuse Delphin Tower de Benidorm. Par passion pour le vin le projet de créer un vignoble a été imaginé. 
Pour cela l'équipe de consultants bordelais, Oenoconseil (avec Antoine Médeville et Emilien Delalande) s'est rendue sur place. S'ensuivit une longue phase de préparation pour pouvoir planter: Où, quoi, comment, pourquoi, et quand ?
L' objectif de ce projet est aussi de participer de manière active à la valorisation du patrimoine culturel et de la gastronomie espagnole. Un complexe touristique haut de gamme est également prévu: restaurant, bar en bas de la vallée (avec vue sur une magnifique eau couleur turquoise !) chambres implantés à différents endroits de la propriété sur 100 hectares… Un projet très ambitieux qui s'annonce magnifique ! 
* La famille espagnole Vidal n'est pas en lien avec le producteur Vidal-Fleury de Côtes du Rhône. 
The project is due to the Vidal family*. 5 brothers: Javier, Pépé, Emilio, Juanfer and Sergio. Sergio Vidal is the creator of the famous Delphin Tower  of Benidorm. As wine lovers, the project to create a vineyard was imagined. 
For that reason, a team of consultants from Bordeaux was enrolled: Oenoconseil (with Antoine Médeville and Emilien Delalande). A long preparation phase followed in order to plant: Where, what, how, why, and when? 
The aim of this project is to promote Spanish cultural heritage and gastronomy. Five star tourist complex is also planned with restaurant, bar at the bottom of the valley with an amazing view on a beautiful blue lagoon water, and rooms located in different places of the property (which is 100 hectares for the moment). This is a very ambitious project that promises to be magnificent ! 
* The spanish Vidal family is not linked with the producer from Côtes du Rhône named Vidal-Fleury. 
El proyecto se debe a la familia Vidal*. 5 hermanos: Javier, Pépé, Emilio, Juanfer y Sergio. Sergio Vidal es el origen de la famosa Delfin Tower de Benidorm. Por pasión por el vino, se ha concebido el proyecto de crear un viñedo.
Para esto, el equipo de consultores bordelés, Oenoconseil (con Antoine Médeville y Emiliano Delalande) visitó el lugar. Luego hubo una larga fase de preparación para poder plantar: ¿Dónde, qué, cómo, por qué, y cuándo?
El objetivo de este proyecto es promover el patrimonio cultural y la gastronomía española. También está previsto un complejo turístico de primera categoría: restaurante, bar en la parte inferior del valle (con la vista sobre una magnífica agua color turquesa !) habitaciones implantadas en diferentes lugares de la propiedad (sobre 100 hectáreas) … ¡Es un proyecto muy ambicioso!
* La familia española Vidal no está relacionada con el productor Vidal-Fleury de Côtes du Rhône.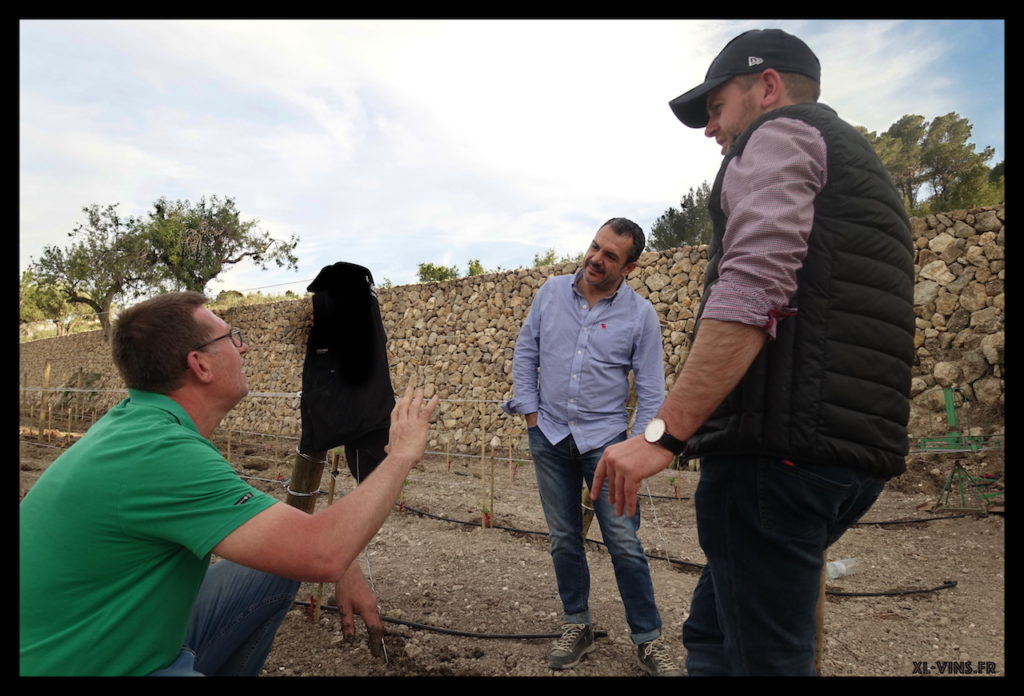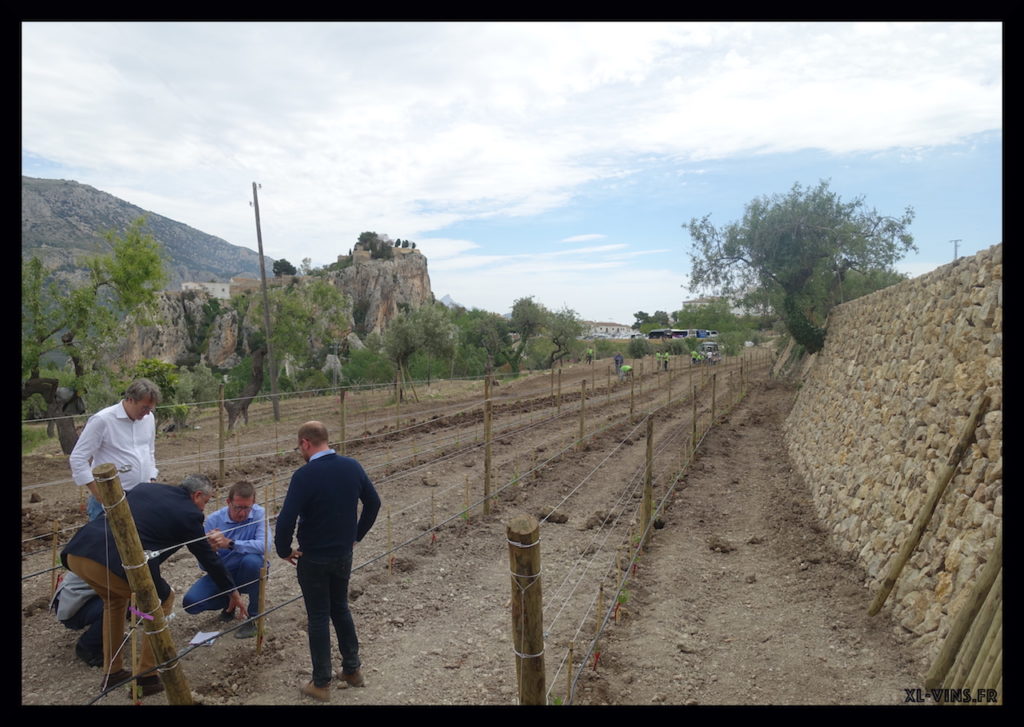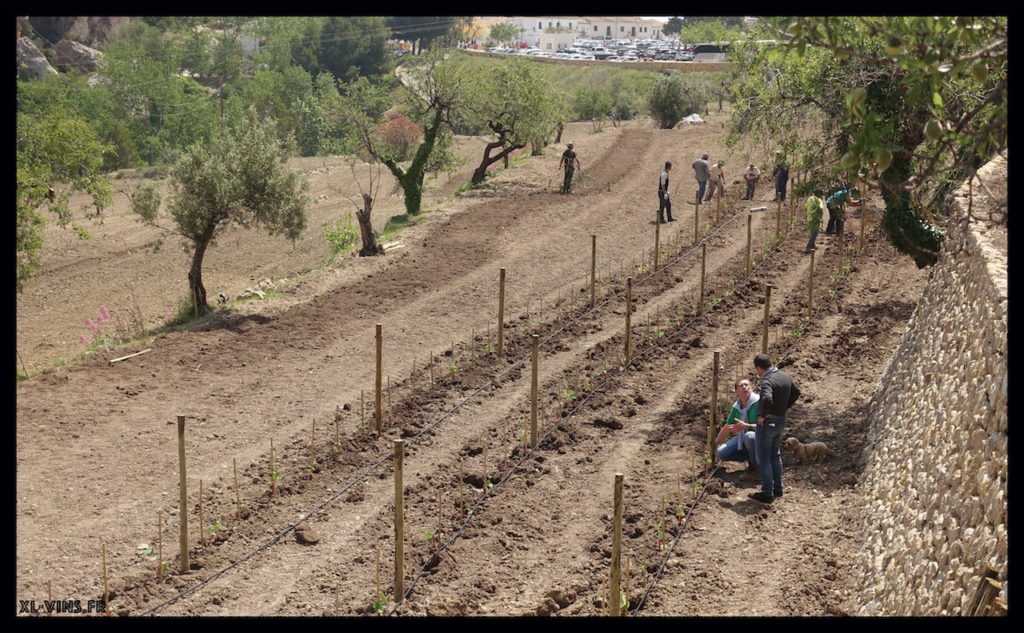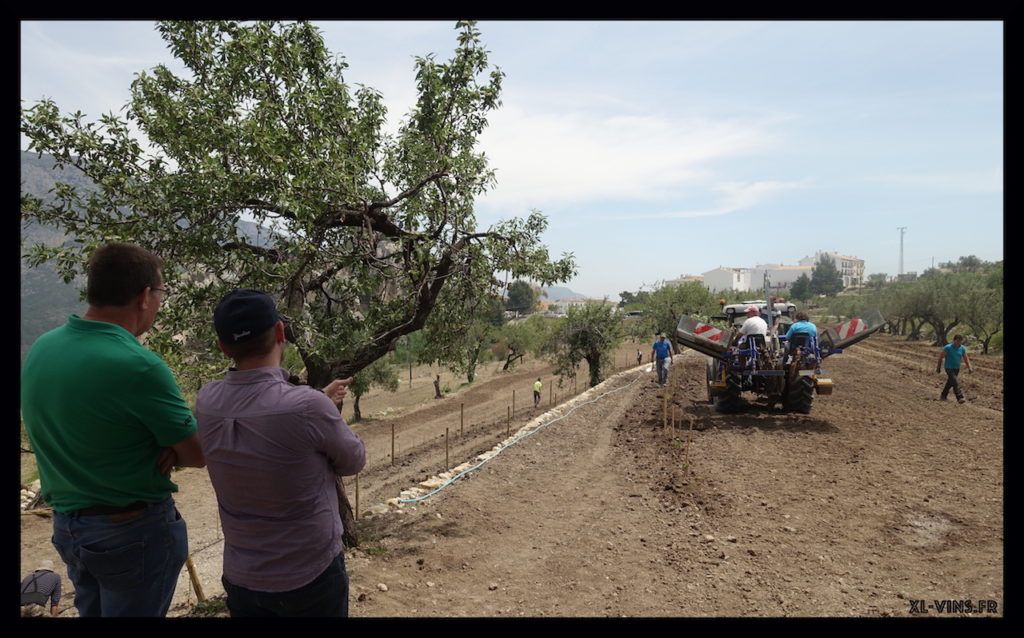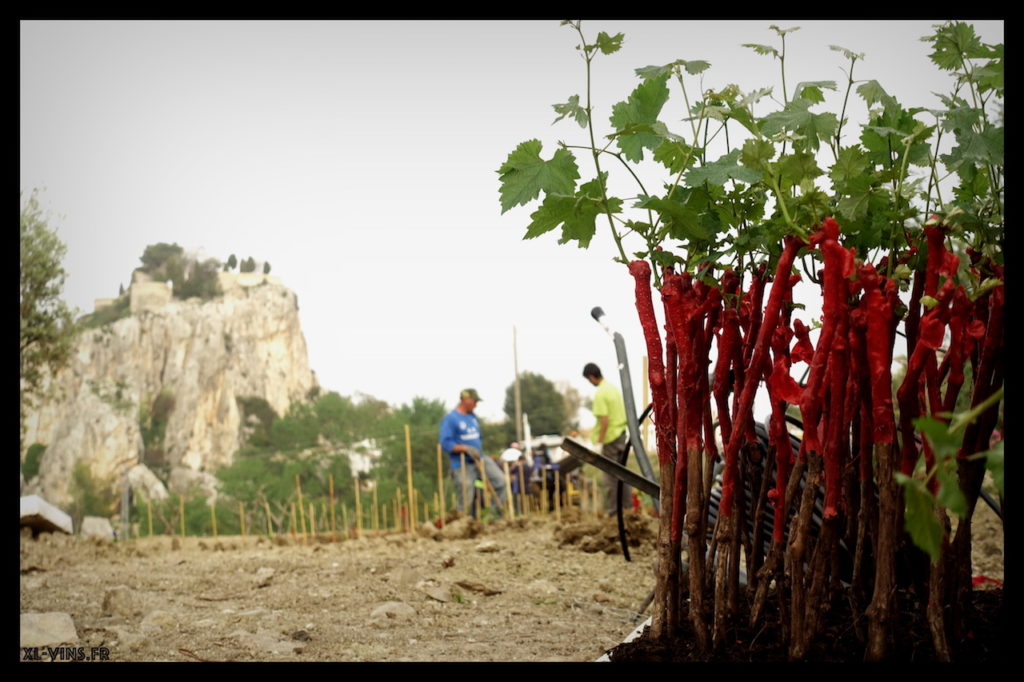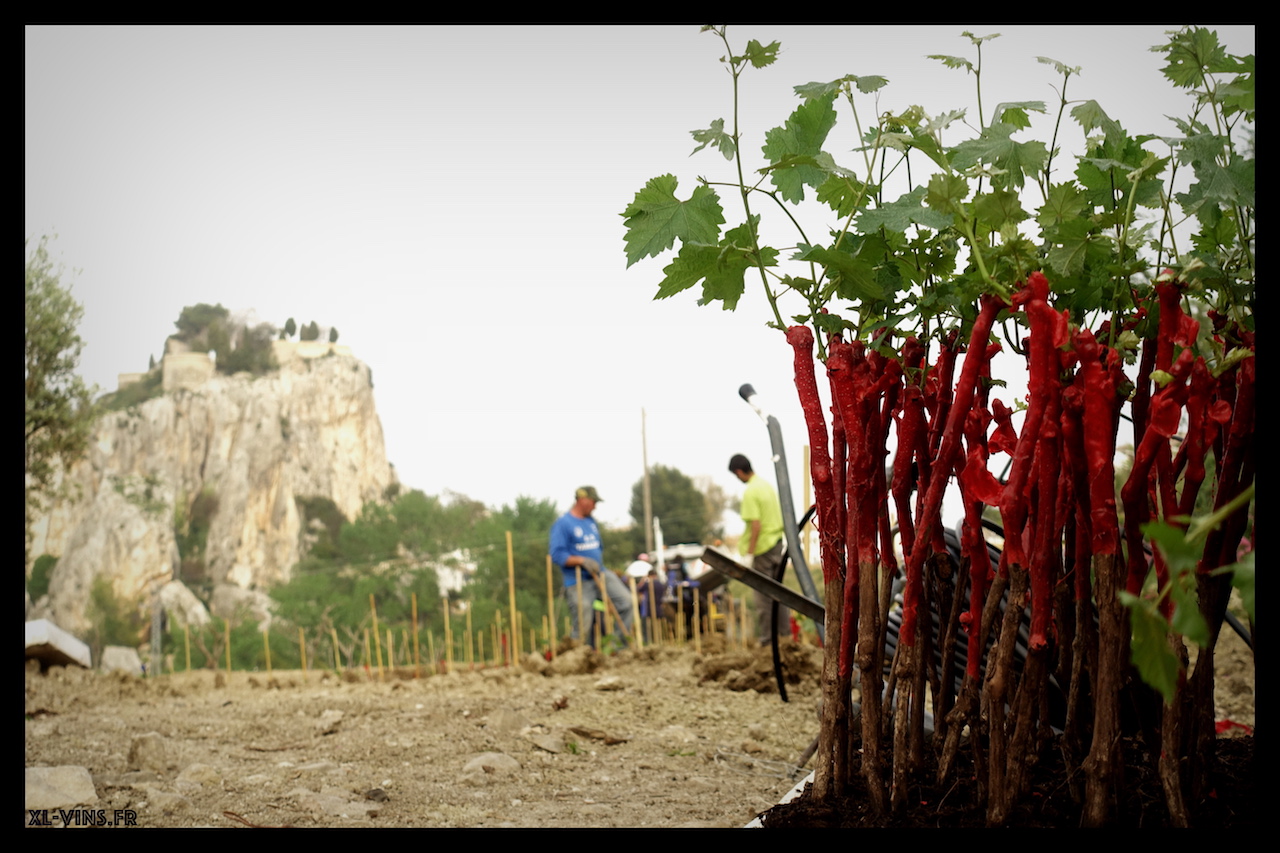 La plantation des vignes a été effectuée par machine suivant des points GPS préalablement établis. La première phase du projet repose sur 5,5 hectares de vignes en coteaux qui nécessitent un travail considérable: la plantation des pieds suit le tracé sinueux des coteaux.
Entre 25 et 30 hectares seront plantés avec à terme la possibilité de doubler ce chiffre. 
The planting of the vines was carried out by machine following previously established GPS points. The first step of the project is based on 5.5 hectares of hillside vines that require considerable work: the planting of the vines follows the winding layout of the hillsides!
Between 25 and 30 hectares will be planted with the possibility of doubling it.
La plantación de las viñas se efectuó de manera mecánica siguiendo puntos GPS previamente establecidos. La primera fase del proyecto se basa en 5,5 hectáreas de viñedos en ladera que requieren un trabajo considerable: la plantación de la vid sigue el trazado sinuoso de las laderas.
Se plantarán entre 25 y 30 hectáreas, con la posibilidad a largo plazo de duplicar esta superficie.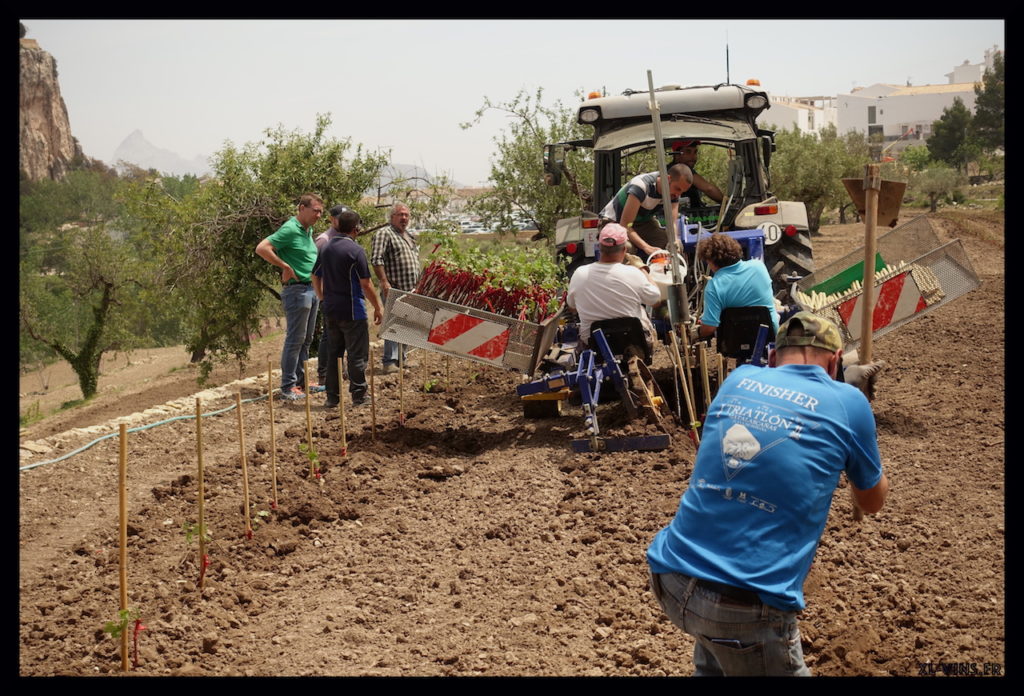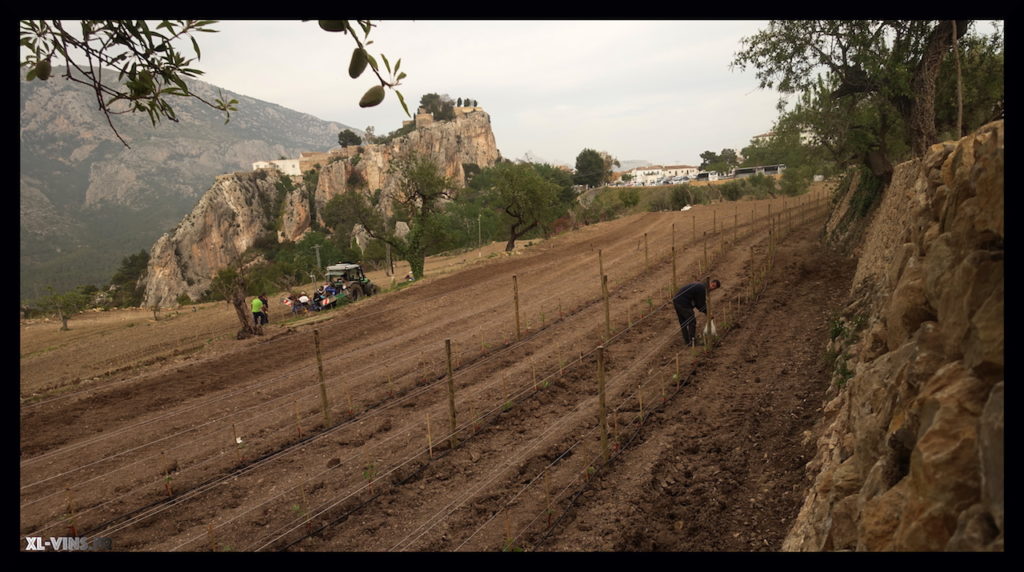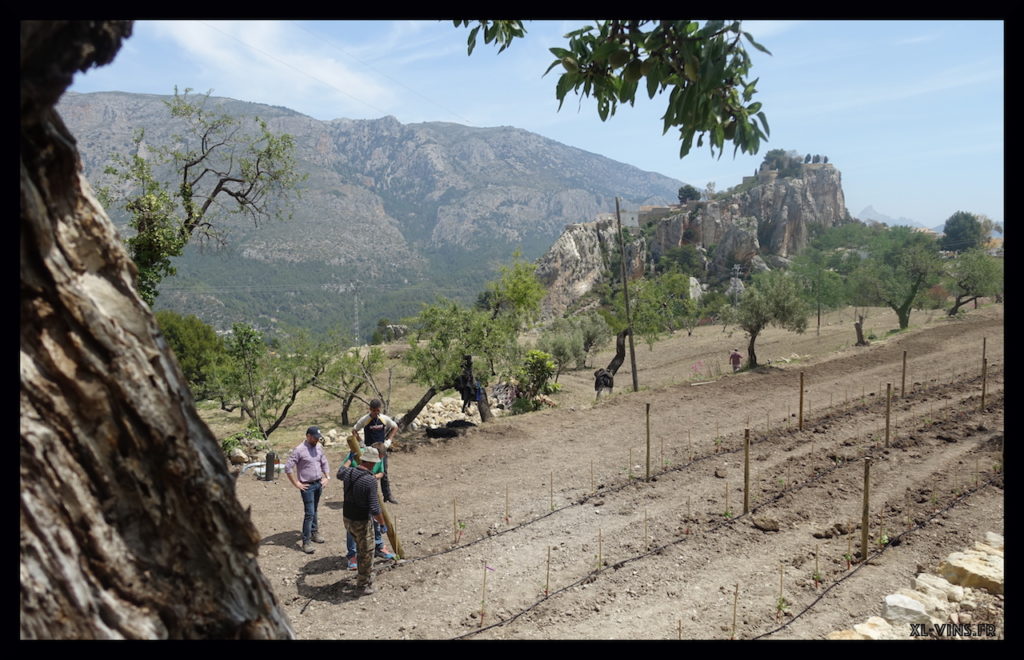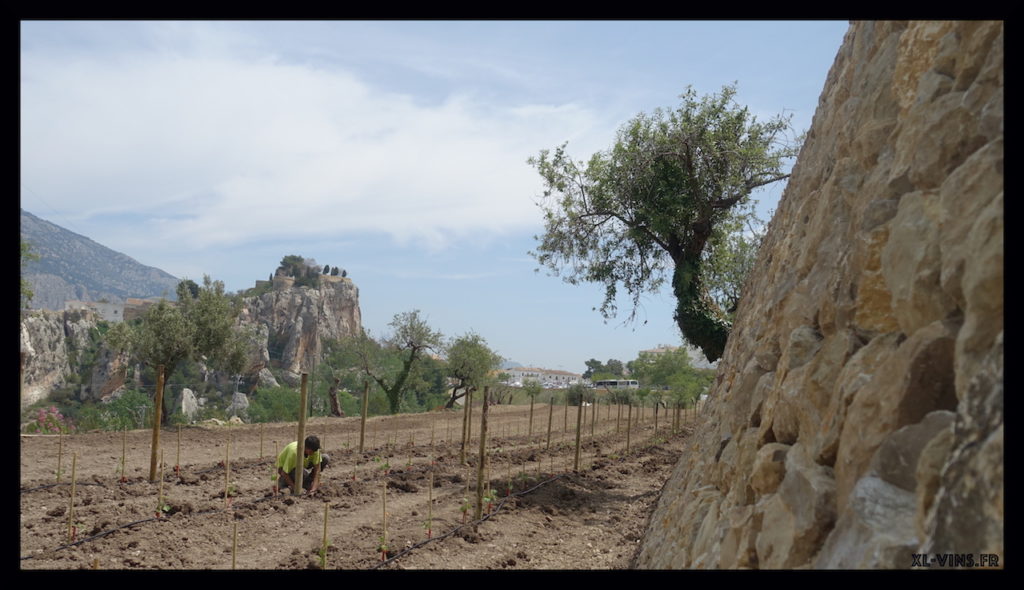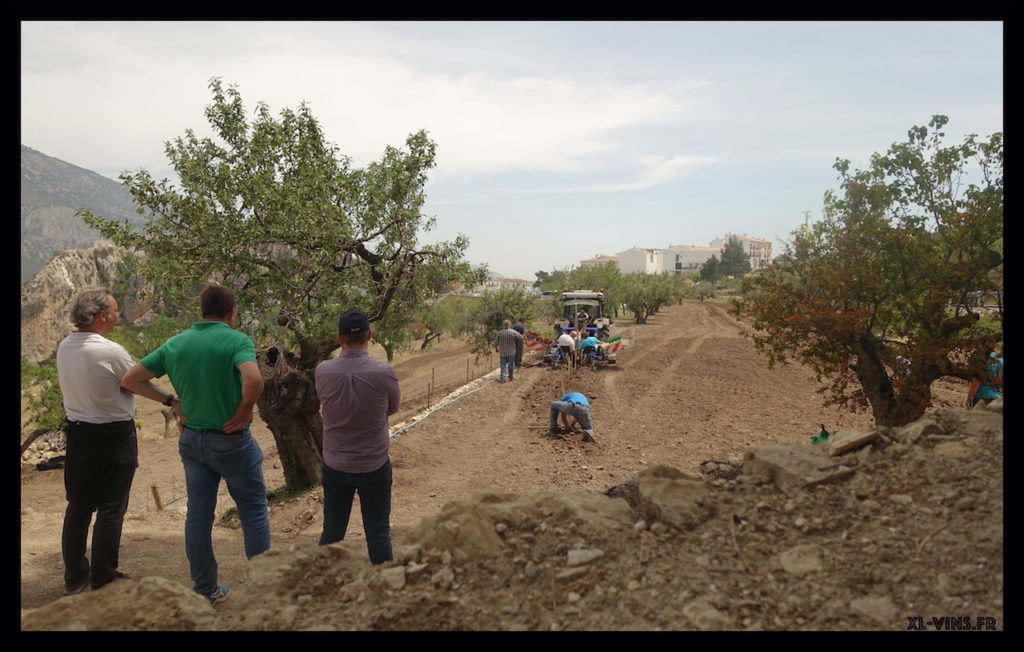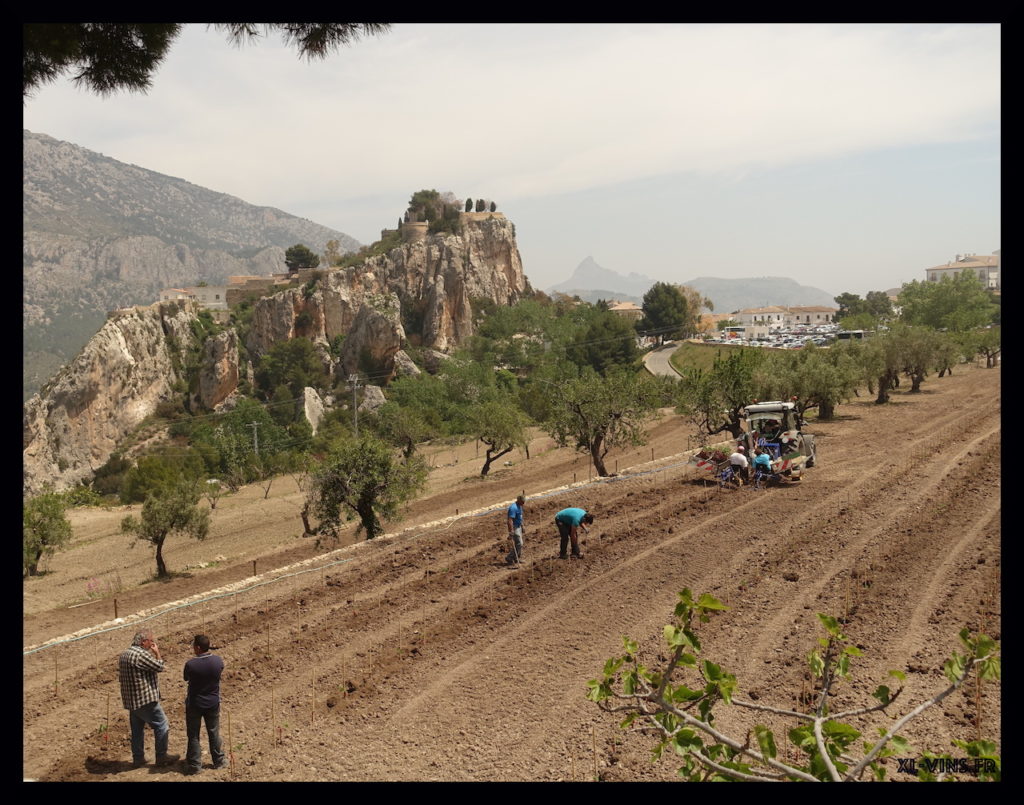 La première phase de plantation a été effectué en ma présence avec des cépages bien connus : Cabernet Sauvignon, Merlot , Syrah, Chardonnay, Petit Verdot, Alicante et Monastrelle (Mourvèdre). D'autres cépages viendront s'ajouter : Tempranillo, Grenache blanc et rouge. Quelques cépages plus rares sont prévus … affaire à suivre !
The first step of planting was carried out during my visit  with well-known grape varieties: Cabernet Sauvignon, Merlot , Syrah, Chardonnay, Petit Verdot, Alicante and Monastrelle (Mourvèdre). Other grape varieties will be added: Tempranillo, White and Red Grenache. Some rarer grape varieties are planned … business to follow!
La primera fase de plantación se llevó a cabo en mi presencia con variedades bien conocidas: Cabernet sauvignon, Merlot, syrah, Chardonnay, Petit verdot, Alicante y Monastrelle. Se añadirán otras variedades: Tempranillo, Garnacha blanca y roja. Algunas variedades más raras están previstas … ¡asunto digno de seguimiento!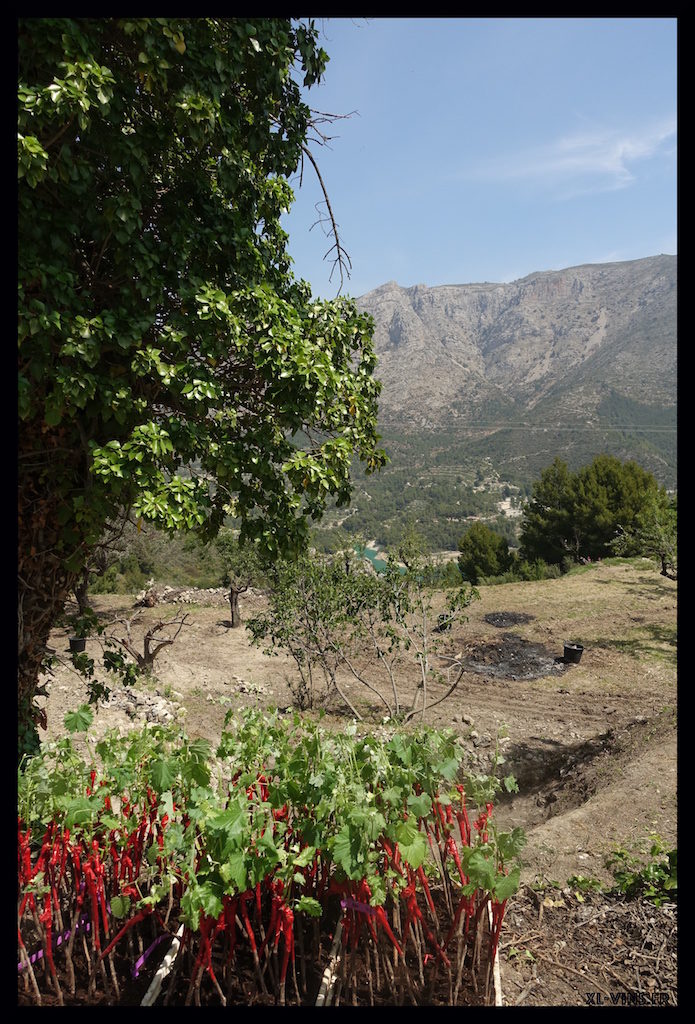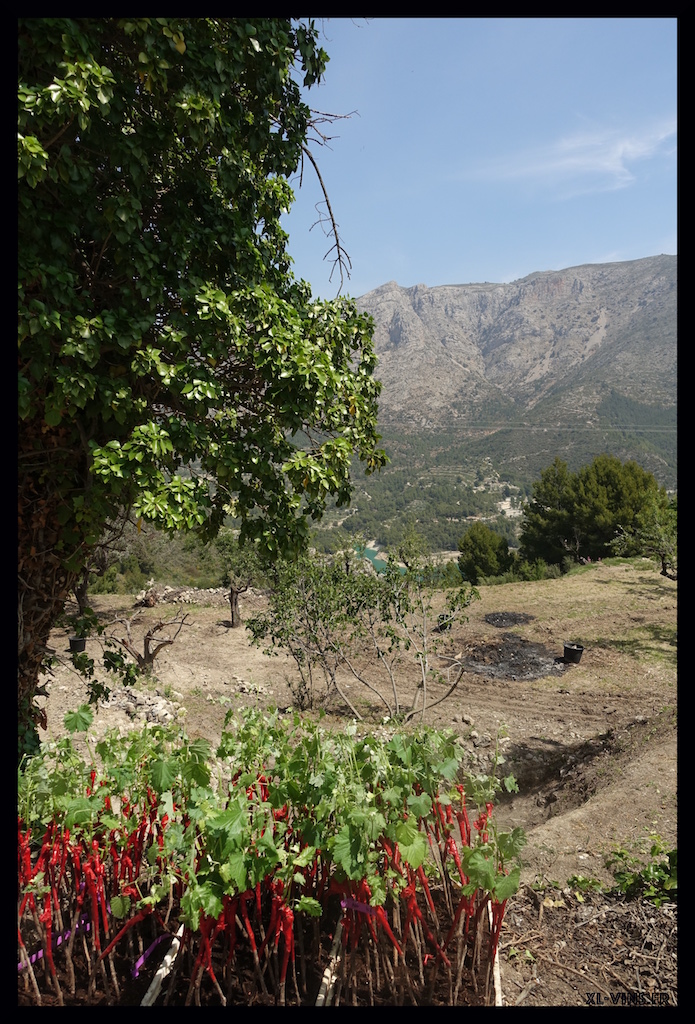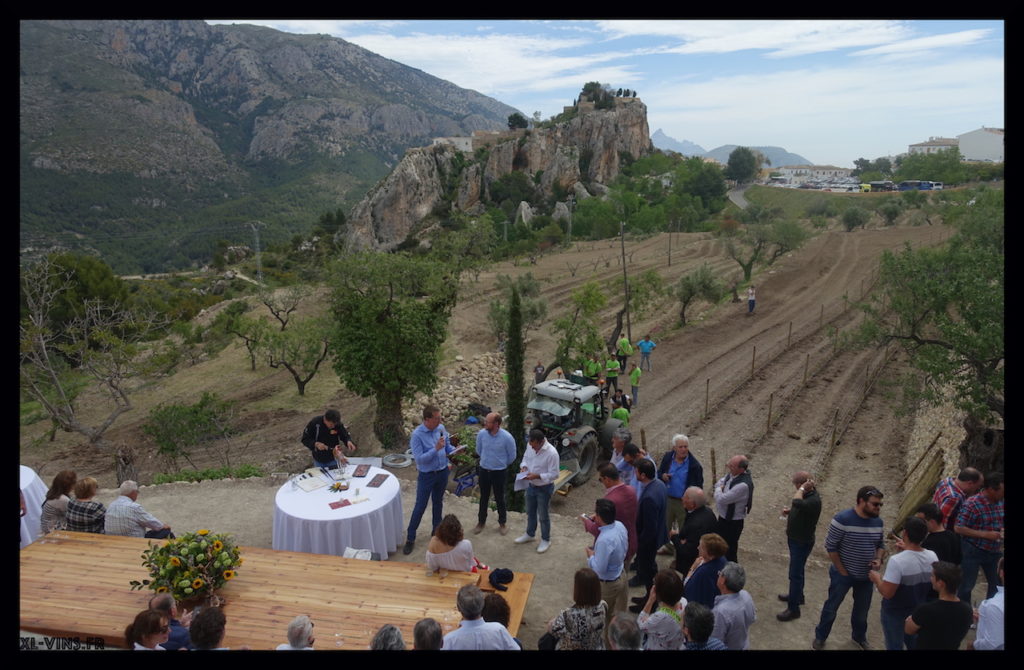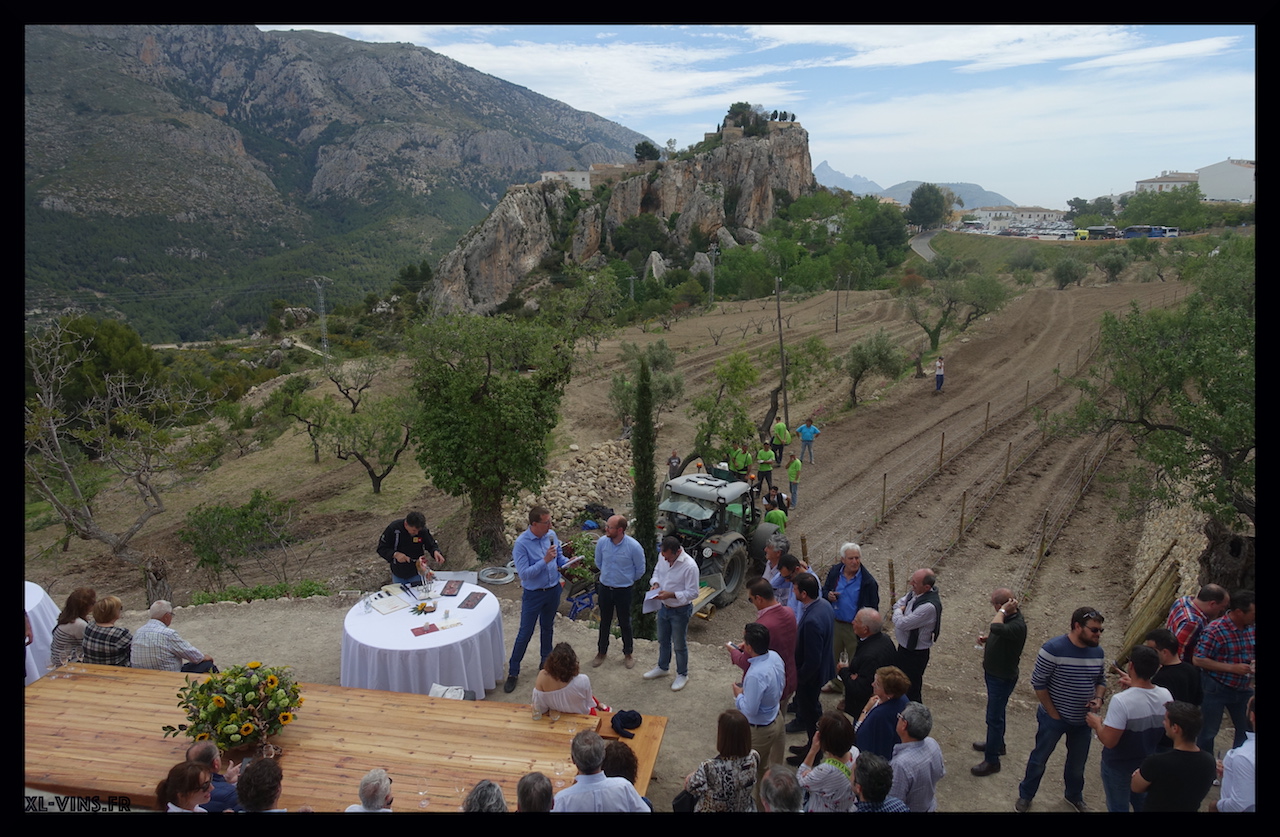 Du beau temps et une super ambiance. Une très belle inauguration ! Beaucoup de personnalités locales ,et pour illustrer la richesse du patrimoine culinaire espagnol, qui de mieux que l'ambassadeur mondial du Jambon Ibérique ? Florencio Sanchidrian ! 
Beautiful weather and a great atmosphere. A very nice inauguration! Many local personalities ,and to illustrate the richness of Spanish culinary heritage, who better than the world ambassador of Iberian Ham? Florencio Sanchidrian !
Buen tiempo y un muy buen ambiente. ¡Una gran inauguración! Muchas personalidades locales, y para ilustrar la riqueza del patrimonio culinario español, ¿quién mejor que el embajador mundial del jamón Ibérico? ¡Florencio Sanchidrian!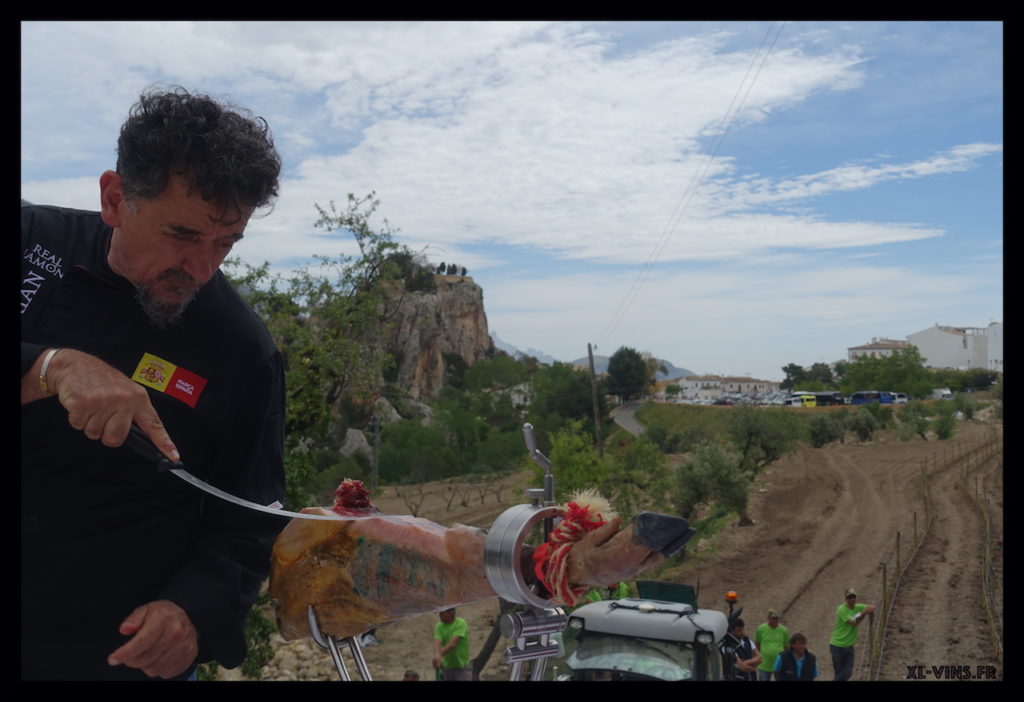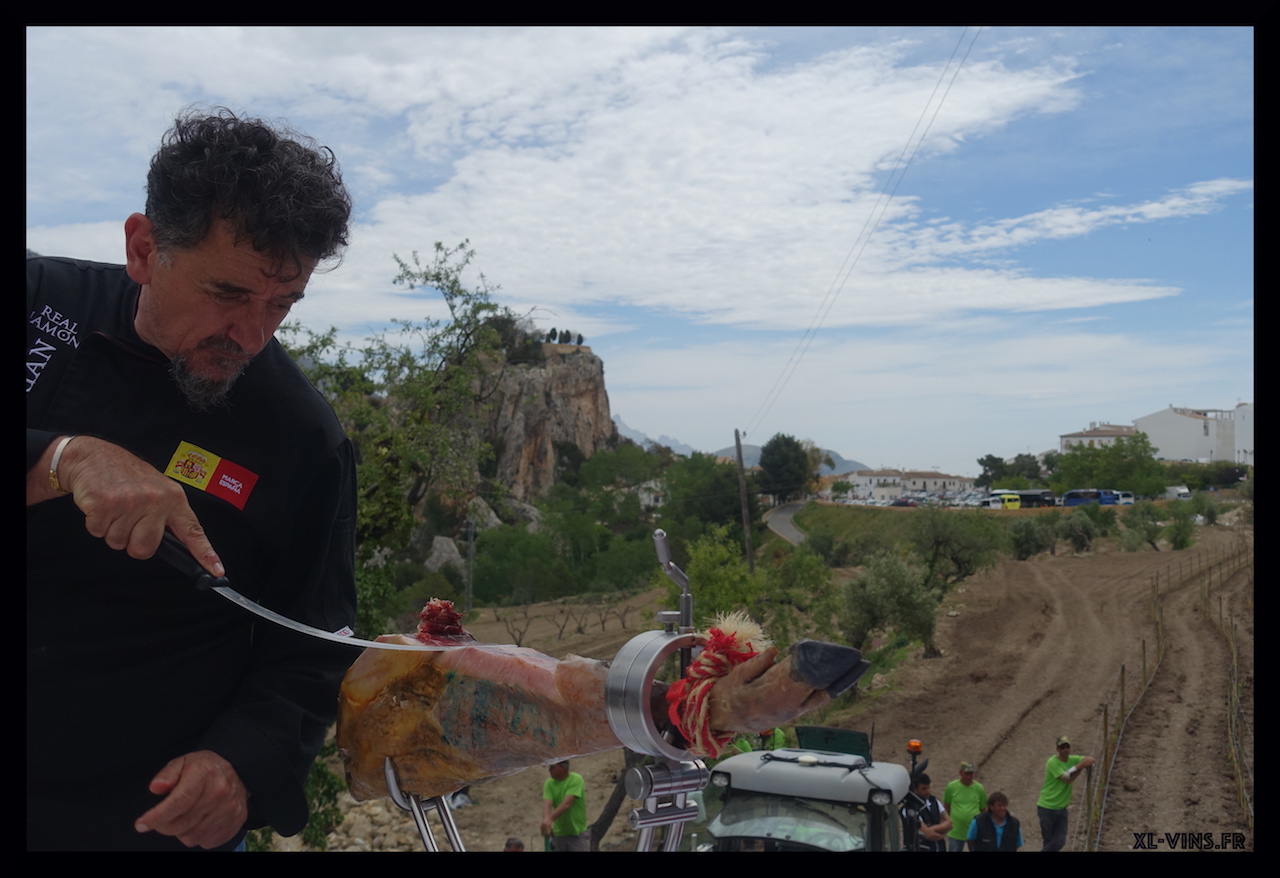 J'ai malheureusement dû partir avant la fin de l'événement et je peux vous assurer que ce fut avec regret. En deux jours je m'étais plutôt bien adapté au rythme de vie espagnol et j'avais presque l'impression d'être de la famille !
Unfortunately, I had to leave before the end of the event with regrets. In two days I had adapted quite well myself to the  Spanish life and I almost felt to be part of the family !
Lamentablemente, tuve que irme antes de que terminara el evento y puedo asegurarle que fue con pesar. En dos días me había adaptado bastante bien al ritmo de vida español ¡y casi me sentía como parte de la familia!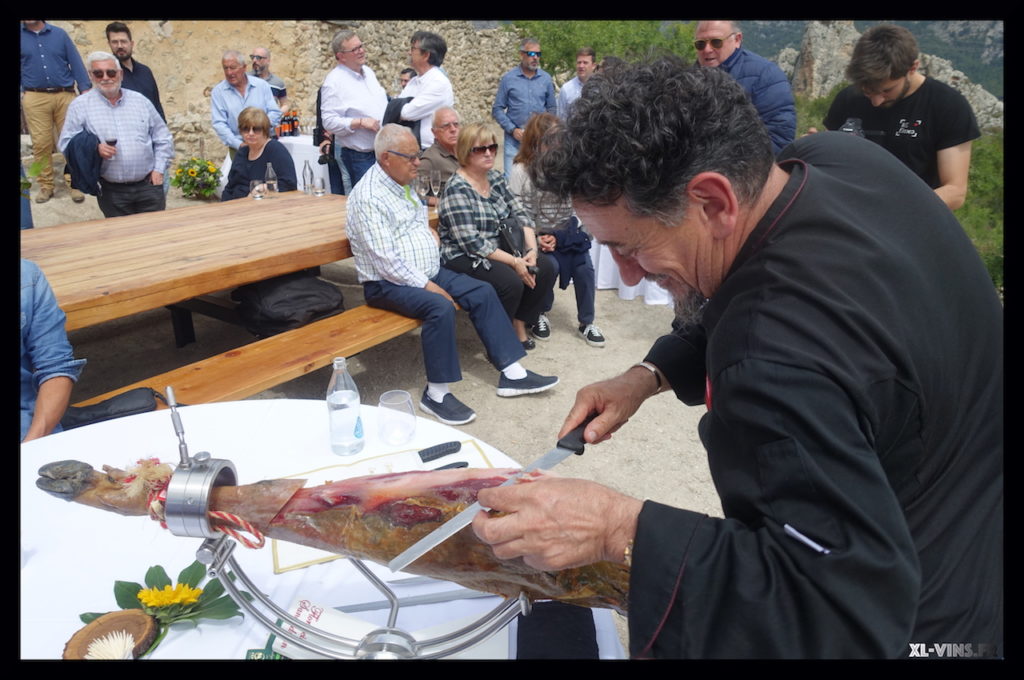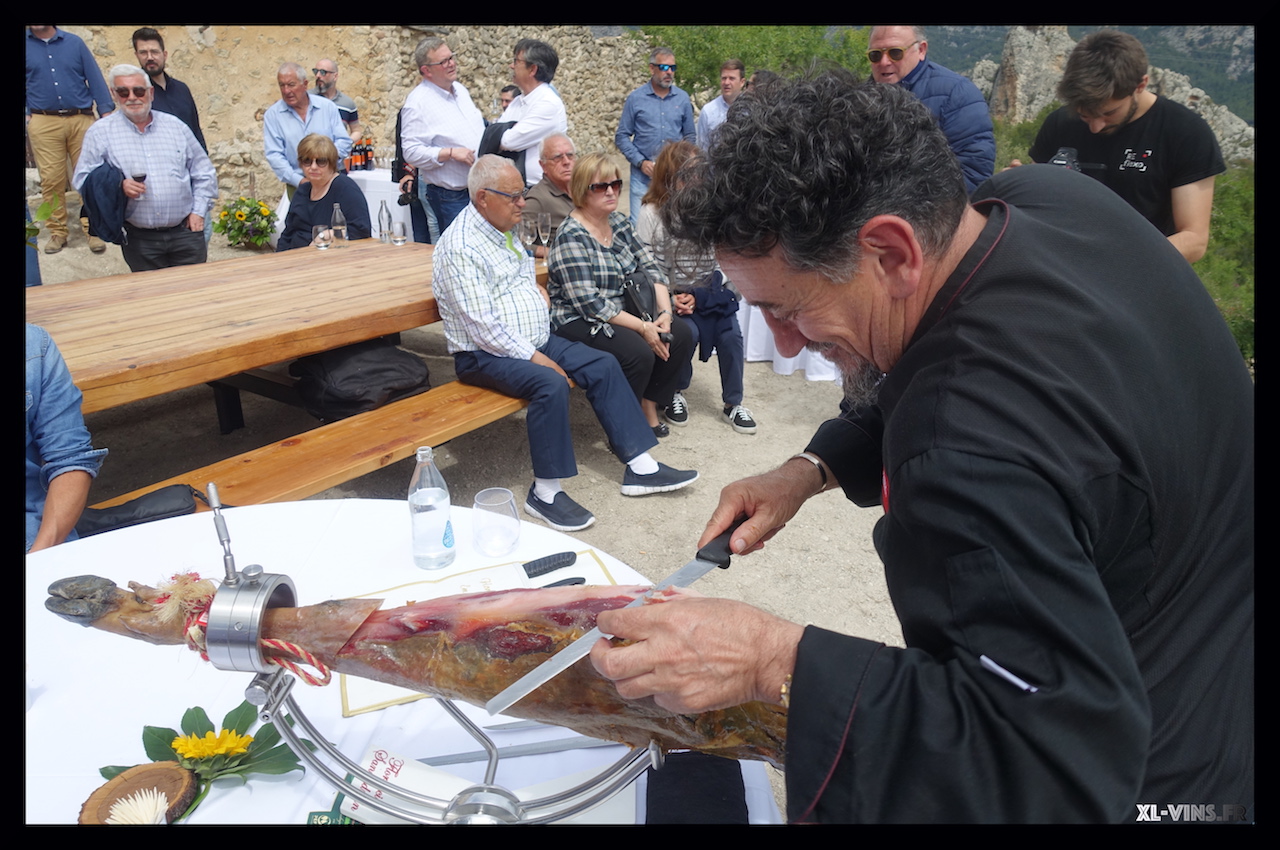 L'objectif est de produire un vin de haute qualité. Cela nécessite d'importants moyens et bien sûr du temps: la première récolte aura lieu dans trois ans. Il faudra donc se montrer patient mais je peux d'ores et déjà vous livrer ce que je ressentirai lorsque je gouterai ce vin :
Je gouterai un vin dans lequel je reverrai cette magnifique vue, dans lequel je ressentirai ce climat, chaud et ensoleillé avec une brise soutenue. Un vin  fait pour que l'on ait envie de le boire,  de le partager, et qui se mariera parfaitement avec un jambon ibérique tranché par Florencio ! Un vin dans lequel je retrouverai le sourire de toutes les personnes qui m'ont si gentiment accueillis !
Xavier LACOMBE
The goal is to produce a high quality wine. This requires a lot of money and, of course, a lot of  time: the first harvest will take place in three years. For sure we need to be patient but I can already give you what I will feel when I taste this wine :
During the tasting of this wine I will find this magnificent view, feeling this climate, warm and sunny, with a steady breeze. An enjoyable wine, made to give you the feeling to drink and share it, and that will perfectly fit with an Iberian ham sliced by Florencio! In this wine I will meet the smile of all the people who have so kindly welcomed me !
Xavier LACOMBE 
El objetivo es producir un vino de alta calidad. Esto requiere grandes inversiones de dinero y, por supuesto, de tiempo: la primera cosecha tendrá lugar dentro de tres años. Habrá que ser paciente, pero ya puedo expresar lo que sentiré cuando pruebe este vino:
Probaré un vino en el que volveré a ver esta magnífica vista, en la que sentiré este clima, cálido y soleado con una brisa constante. ¡Un vino hecho para que uno quiera beberlo y compartirlo, y que irá perfectamente con un jamón ibérico cortado por Florencio! ¡Un vino en el que encontraré la sonrisa de todas las personas que me han acogido tan amablemente!
Xavier LACOMBE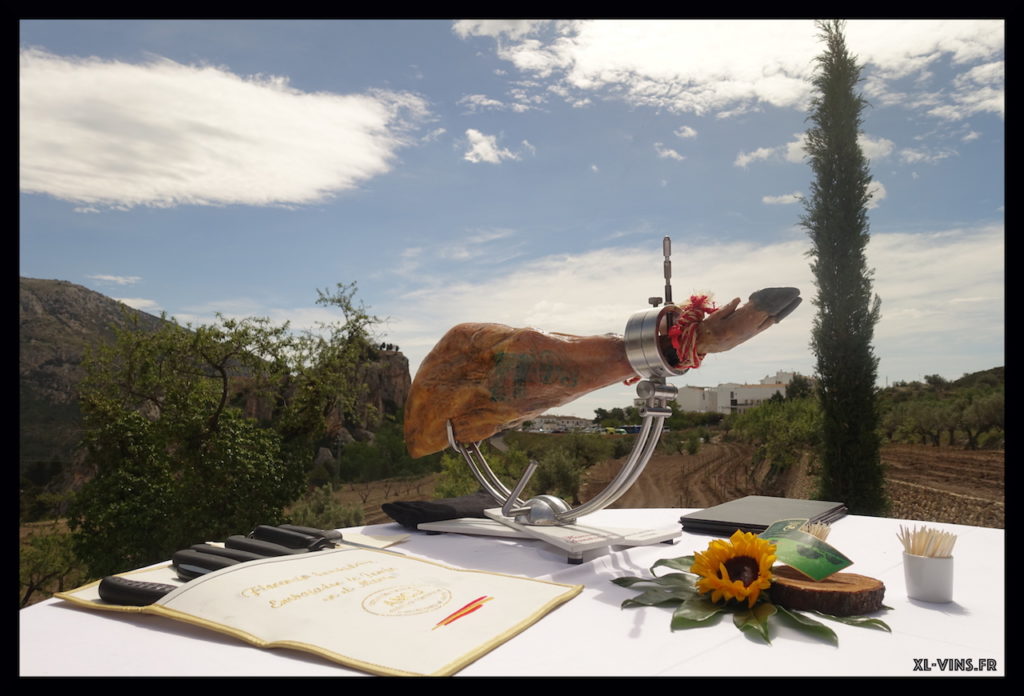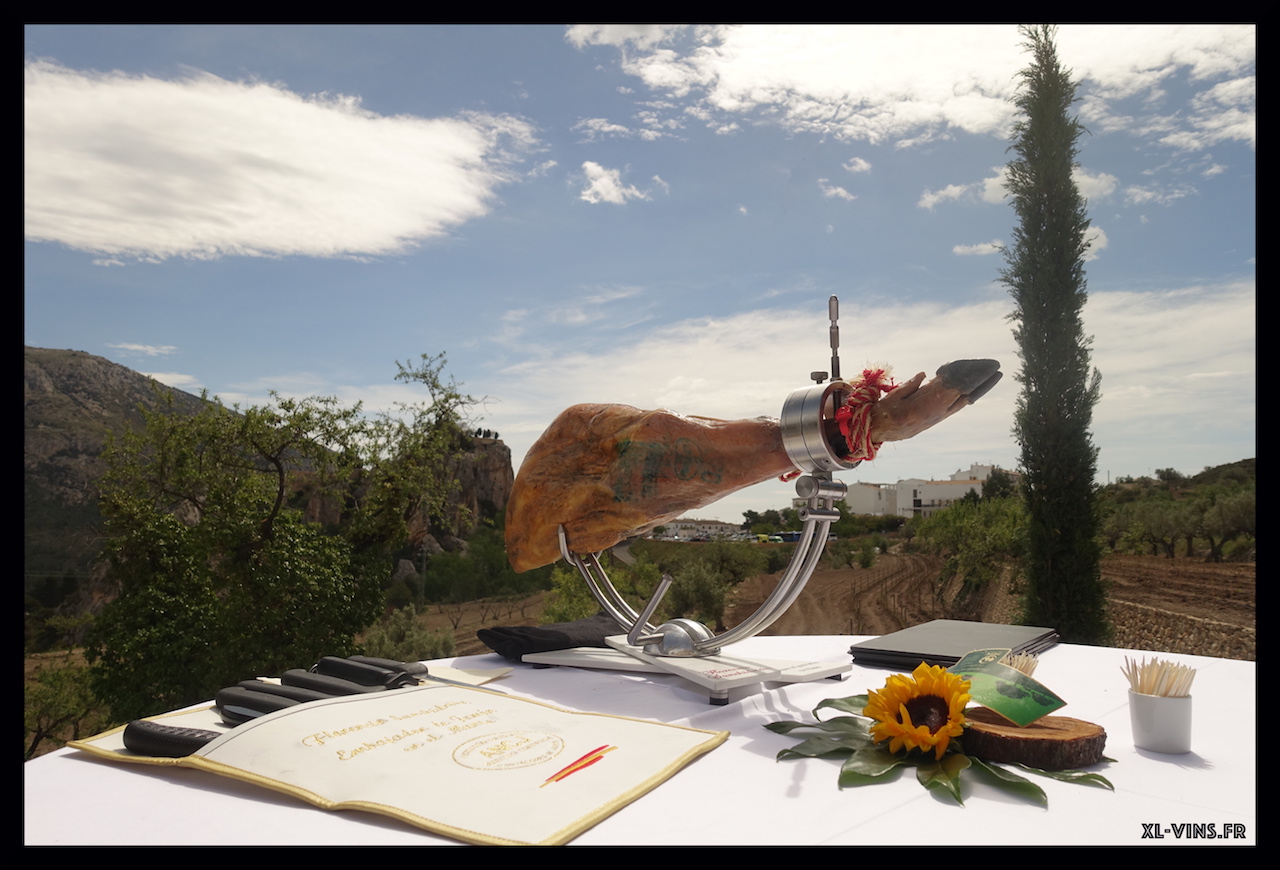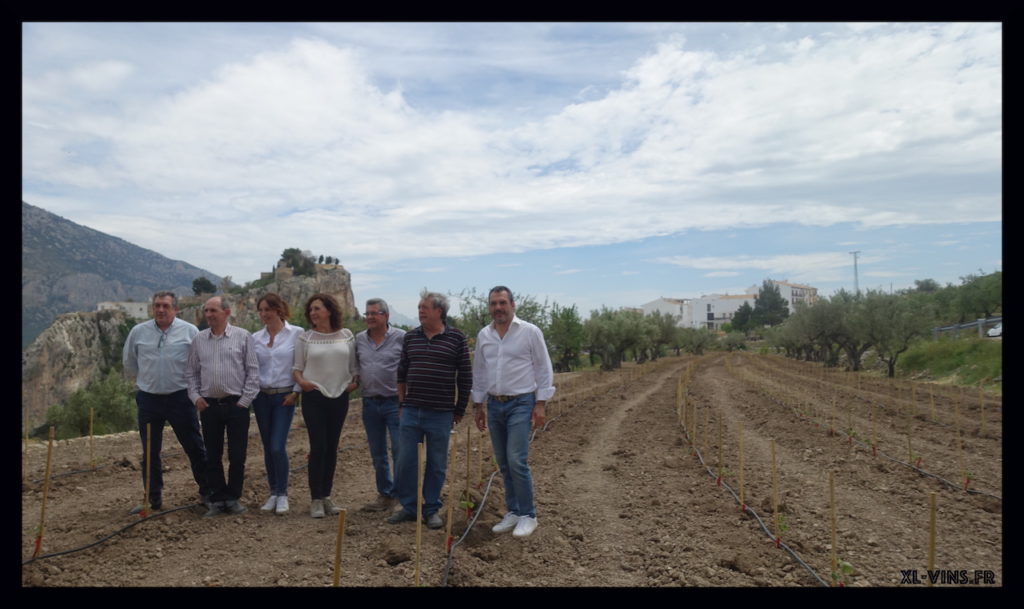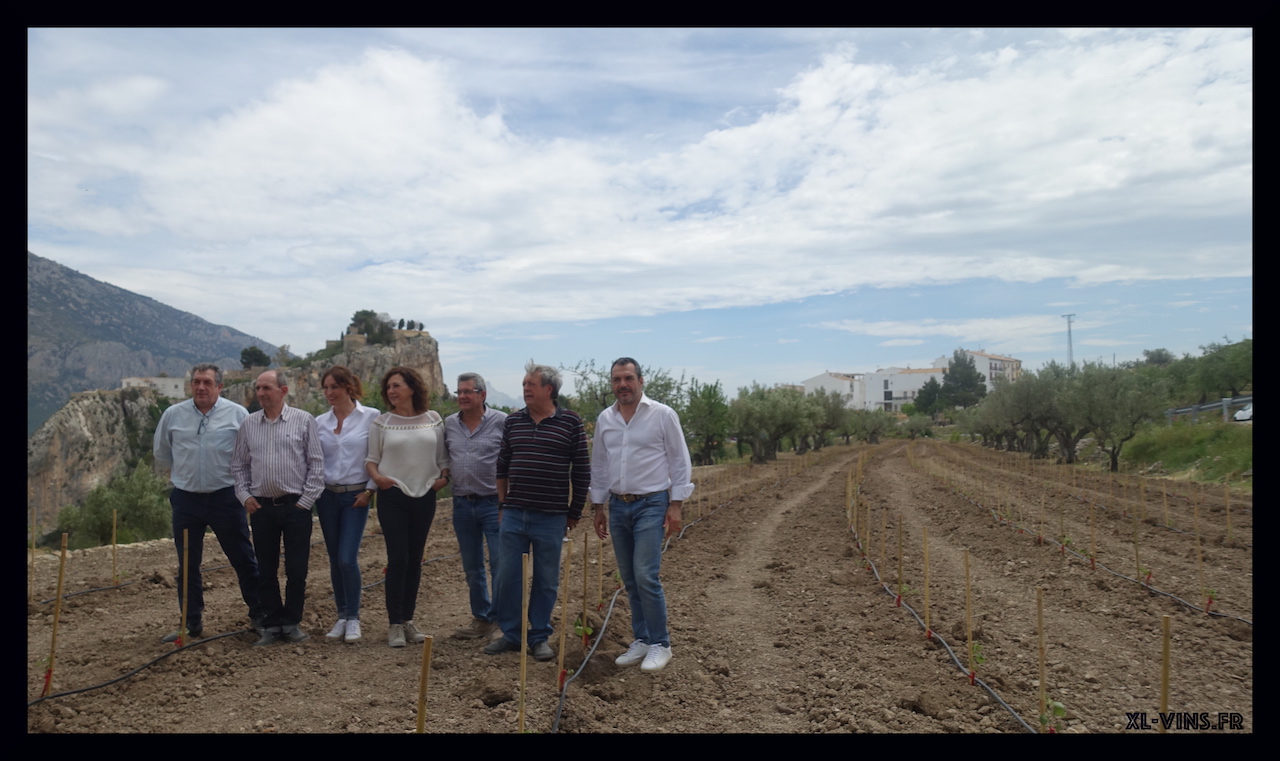 Merci à :
Oenoconseil, Antoine Médéville, Emilien Delalande; la famille Vidal: Carol et Sergio,  Florencia et Javier, Maite et Emilio, Pépé ; Miriam Atienza, Florencio Sanchidrian (tenemos la misma sensabilidad en nuestros pasiones ) Sofia Alonso et Toni Serrano de Casesnoves ( formidables personnes qui tiennent un gite et que je vous recommande chaudement : Casesnoves lien ici et toutes les autres personnes que j'ai pu rencontrer durant ce séjour !
Pour suivre l'évolution de ce vignoble, voici le lien du site officiel: Masos.es
Ps: Sachez qu'une ligne aérienne directe existe entre Bordeaux et Alicante. ¡Viva España !
Ps bis: Exceptionnellement ce texte a été traduit en espagnol (Merci à José Ignacio Sánchez pour m'avoir corrigé )
Thanks to:
Oenoconseil, Antoine Médéville, Emilien Delalande; the Vidal family: Carol and Sergio, Florencia and Javier, Maite and Emilio, Pépé; Miriam Atienza, Florencio Sanchidrian (tenemos la Misma sensabilidad en Nuestros pasiones) Sofia Alonso and Toni Serrano de Casesnoves ( great people who hold a gite and I highly recommend you: Casesnoves link here and all the other people I could meet during this stay! 
To follow the news of this new vineyard, here is the link of the official website : Masos.es
Ps: Note that there is a direct line between Bordeaux and Alicante by plane. ¡Viva España!
Ps bis: This text is also translated in Spanish ( Thanks to José Ignacio Sánchez for the corrections)  
Gracias a:
Gracias a Oenoconseil, Antoine Médéville, emiliano Delalande; la familia Vidal: Carol y Sergio, florencia y Javier, Maite y Emilio, Pépé; Miriam Atienza, Florencio Sanchidrian (tenemos la misma sensibilidad en nuestras pasiones ) Sofía Alonso y Toni Serrano de casesnoves ( ¡ Formidables personas que tiene una alberga y que les recomiendo: Casesnoves enlace aquí, y todas las otras personas que he conocido durante esta estancia!
Par seguir las novellas de esto nuevo viñedo, aquí está el enlace del websitio oficial : Masos.es
Ps: Sepa que existe un vuelo directo entre Burdeos y Alicante por avión. ¡Viva España!
Ps bis: Excepcionalmente este texto ha sido traducido también en español (Muchas gracias a José Ignacio Sánchez para haberme corregido )