For my Sweet February 2021, I continued to share some sweet wines on my social networks. It must be said that there are a many styles of sweet wines, such as Port which produces wines of very high quality and of which we talk too little! The Loire Valley also offers a wide range of sweet wines, such as the Coteaux du Layon or Quarts de Chaume. But there are so many more…
Sharing Week option Sweet February !
For this edition I took advantage of an opportunity within the business school where I teach (ESG) to give a new dimension to my Sweet February. Through « La Sharing Week », which is a 3-day event where students from other courses come to discover different specialties. I organized a day to promote sweet wines through visits. I could not dream of a better opportunity to continue this Sweet February 2021 with the desire to sensitize as many people as possible to the beauty of sweet wines!
I went with 15 students to Sauternes and Sainte-Croix du Mont appellations. With the current pandemic situation and the rather uncertain context the thing was not easy, but in the end it was possible to adapt a last minute program that went beyond my expectations!
First stop : Sainte Croix du Mont, discovering the appellation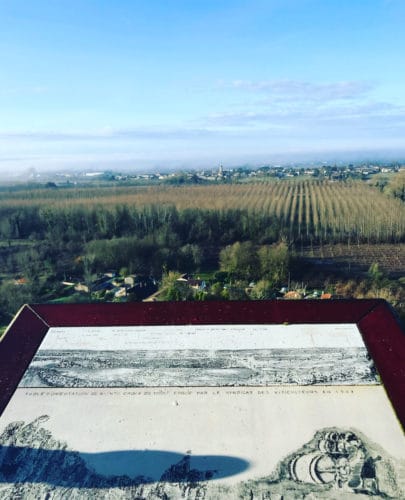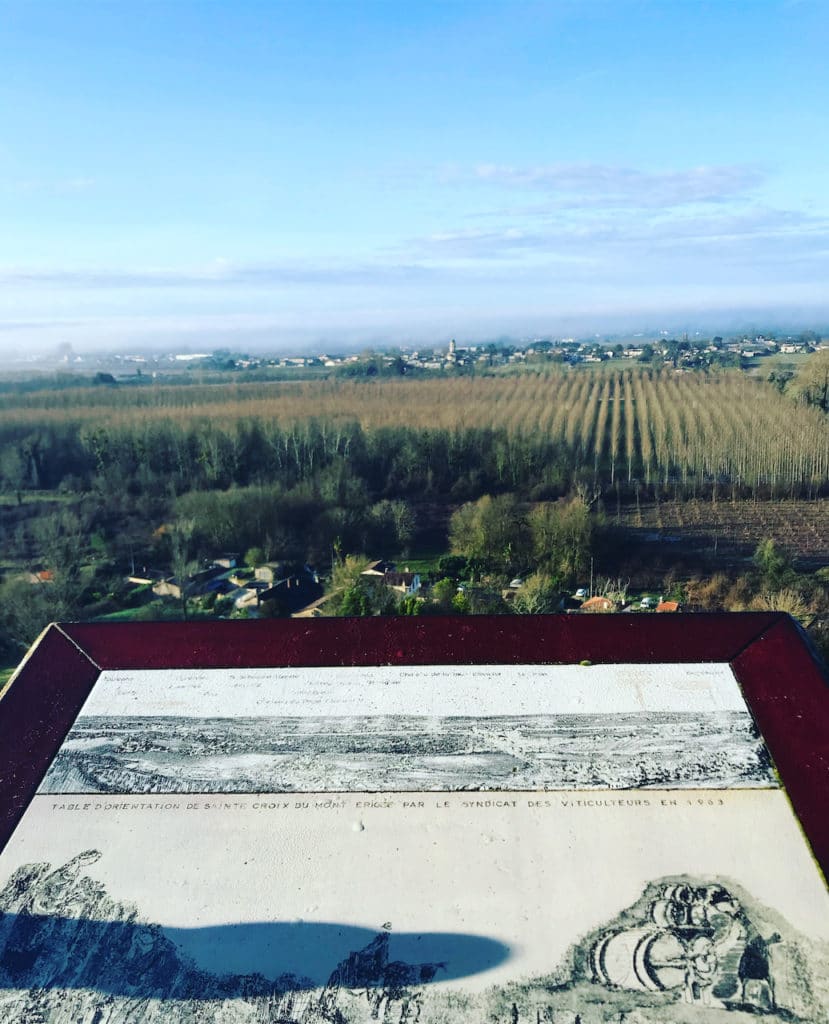 Found at the foot of the church of this confidential appellation it is possible to admire the fossil oysters. A special feature of the soils, which offers a « flash » view, 20 million years ago, and allow us to better understand this appellation of about 200 hectares dedicated to sweet wines, and which is 15 minutes from Sauternes, on the other side of the Garonne.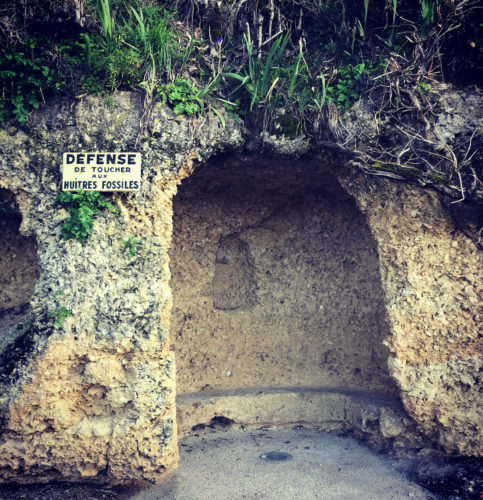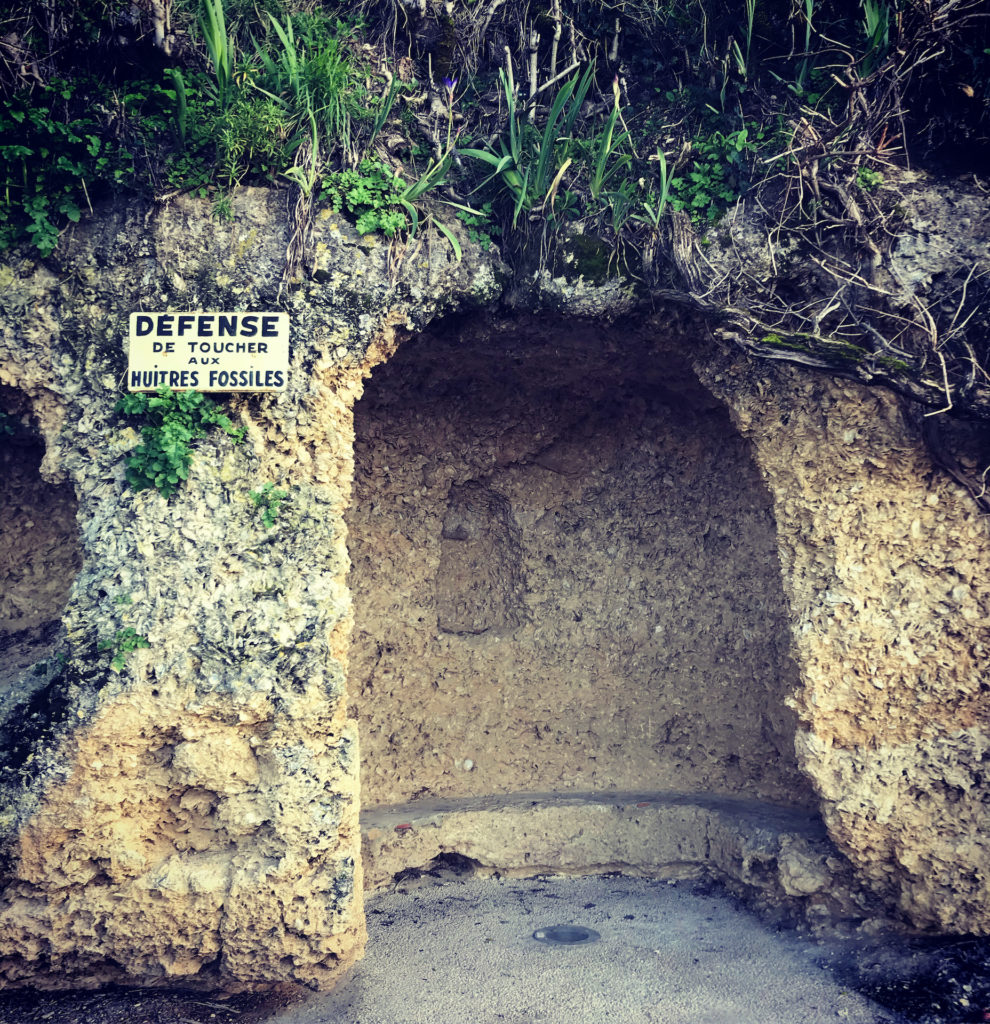 We formed 3 groups for 3 different properties with in each of them the same 3 wines. It is interesting to underline here the good relationship of the estates to play the game and present the wines of their neighbours.
The perfect opportunity to show the differences between different areas of the same appellation, different vintages, and to taste in my group a bottle opened a month ago that was still very appreciable (experience that I had also realised last year, click here).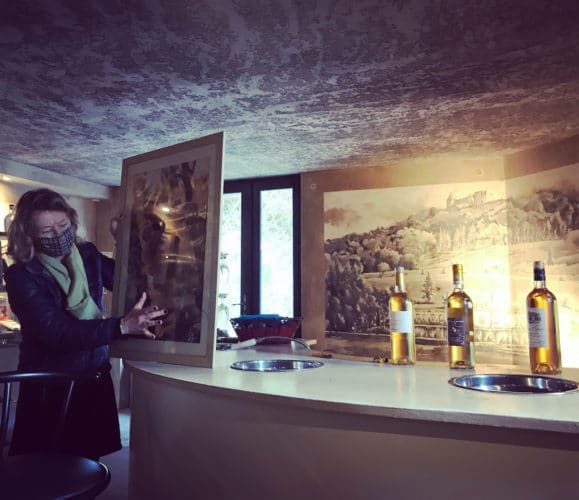 Many thanks to the Sainte Croix du Mont appellation, to the Ozco agency and to the 3 properties : Château de Vertheuil, Château des Coulinats et Château Du Cros. 
Second stop : Sauternes, Château de Fargues : Visit + Cocktail réception.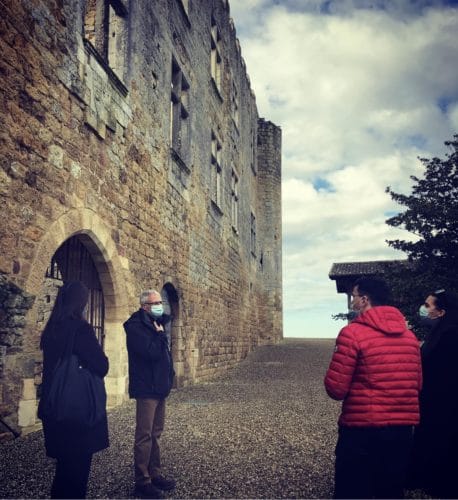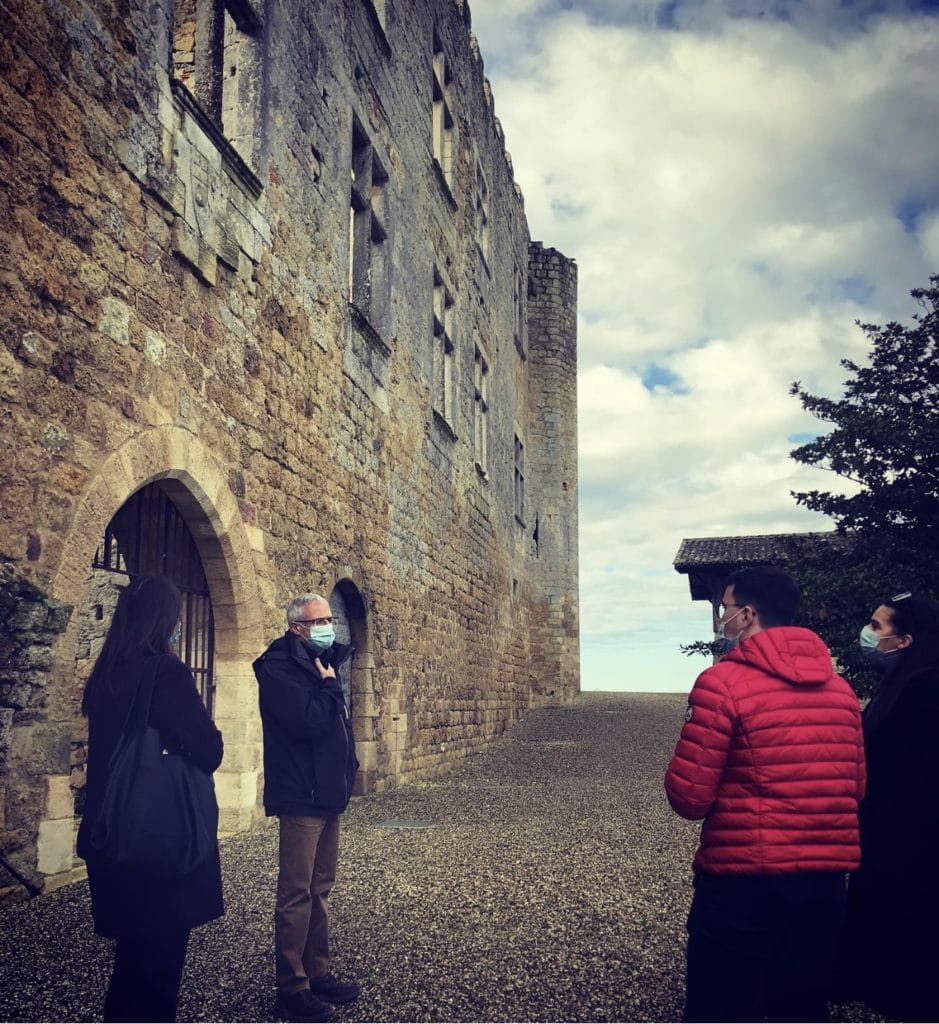 If you follow me, you probably know my attachment to the Château de Fargues and the Lur Saluces family. Their response to my proposal was beyond my expectations! 3 groups were formed with guides: Alexandre de Lur Saluces, Philippe de Lur Saluces, and the technical director François Amirault! Such a privilege is quite exceptional but it does not stop there, since Philippe De Lur Saluces had proposed to me to organize for the occasion a luncheon cocktail in the Castle! I couldn't have dreamed better!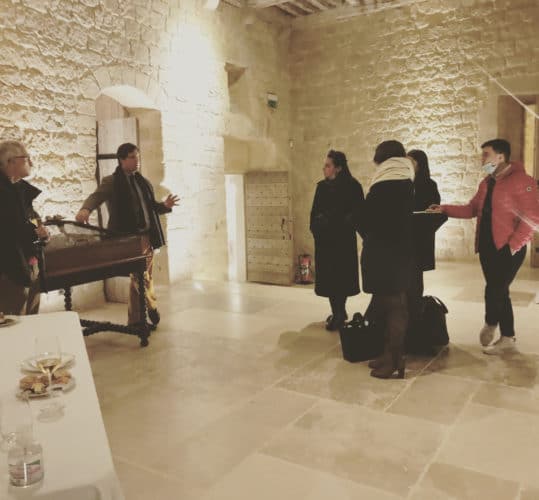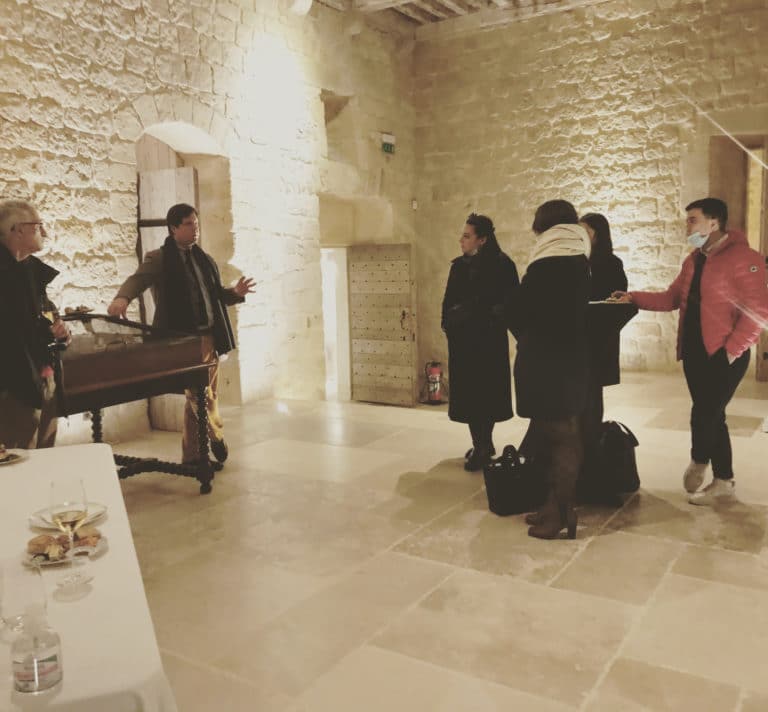 After a visit punctuated by fascinating historical details, we finished by the tasting of 2015 Château de Fargues, masterful, with a real culinary demonstration around various dishes. The worlds of savoury and sweet were revisited ! Total success to show that sweet wines can match a wide range of flavors. The eyes of the students crackled with happiness, surprise, and admiration at such a feat! There is no better reward than that. Many thanks to the whole team of  Château de Fargues and to the Lur Saluces family for helping to make this day unforgettable.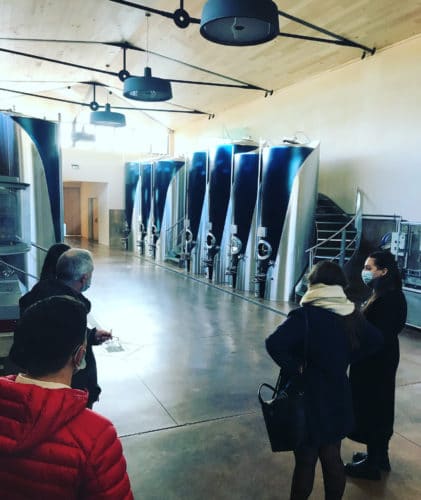 Third stop Sauternes : Château De La Tour Blanche, visit and tasting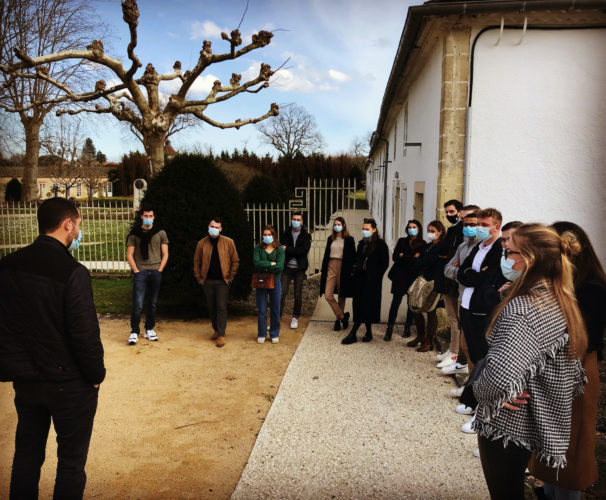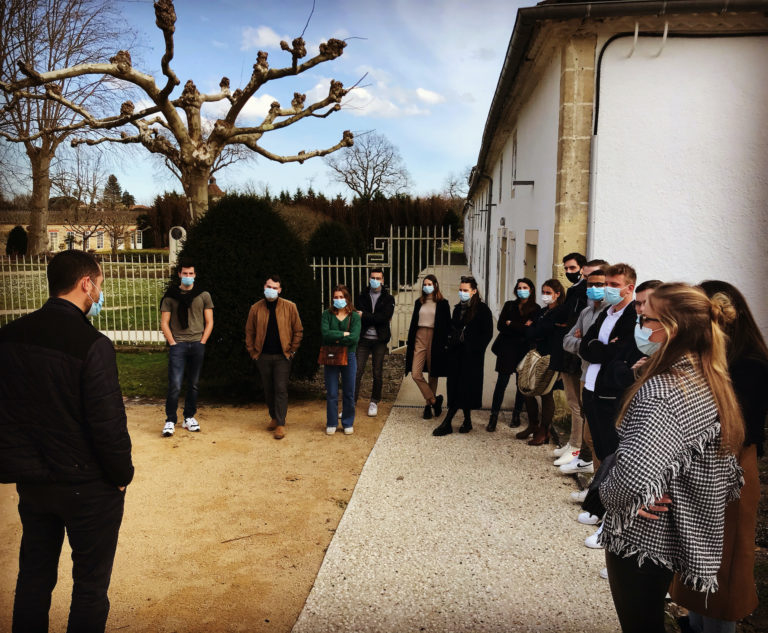 We were welcomed at the Château De La Tour Blanche, 1st Grand Cru Classé 1855, by the manager of the estate, Miguel Aguirre. Miguel made a point of presenting to us the atypical history of the estate, and what better than to do this from the Belvedere to enjoy the superb view of the Sauternes appellation? A most pleasant moment, the sun being of the party, to finish by tasting the different wines of the property in the cellars.
After technical explanations about the harvest in Sauternes, we tasted, among others, a Château La Tour Blanche 2011, with a great balance and a superb complexity. A bottle to have in his cellar! (If you want to read more about this field, click on this article about an amazing vertical tasting that I had the chance to do a few years ago).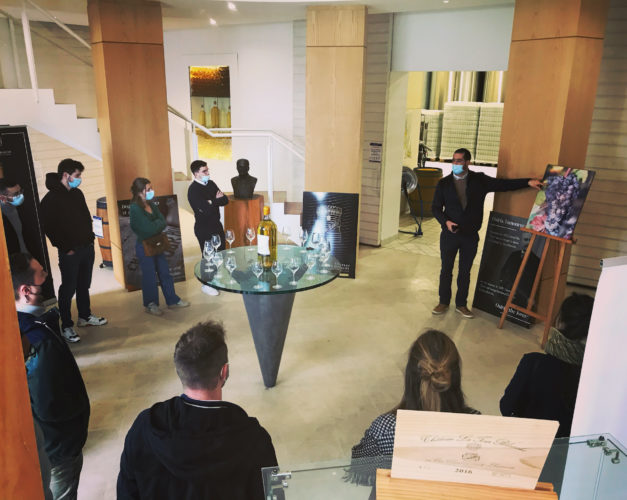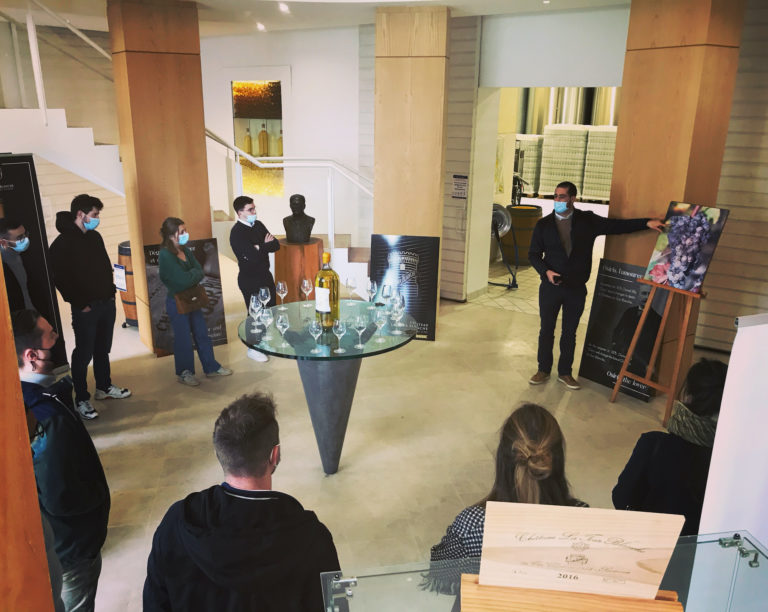 Many thanks to the whole team of Château La Tour Blanche and to Miguel Aguirre for this very nice welcoming.
2021 Sweet February : total success !
In the end, on this Sweet February the exercise to highlight the sweet wines was a success with these students. Many already liked the style, others discovered them and let themselves be charmed. In any case they were able to appreciate the differences between wines of the same appellation, and understood the incredible magic of sweet wines reached by the famous noble rot, the Botrytis Cinerea.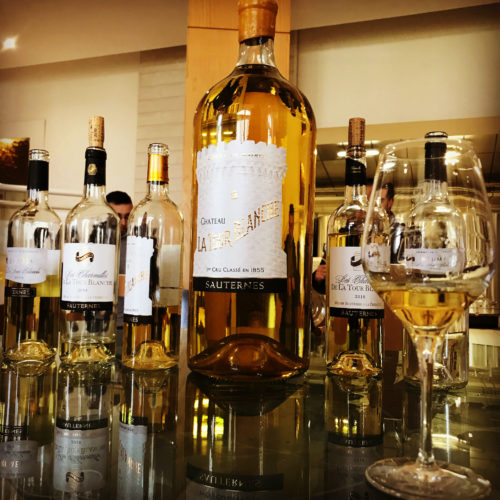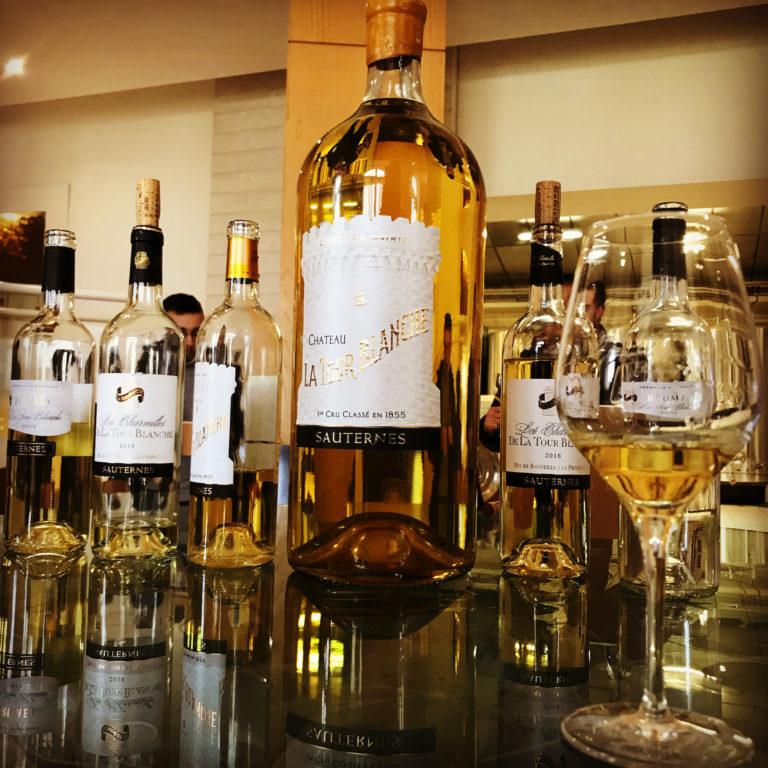 If you want to read more about the previous édition of the Sweet Feburary you will find the  2020 édition by clicking here and the 2019 édition, here. You also can take a look on my other article about the 2021 Sharing Week from my business school where I opened two magnificent bottles from 1955 Loupiac in a perfect condition !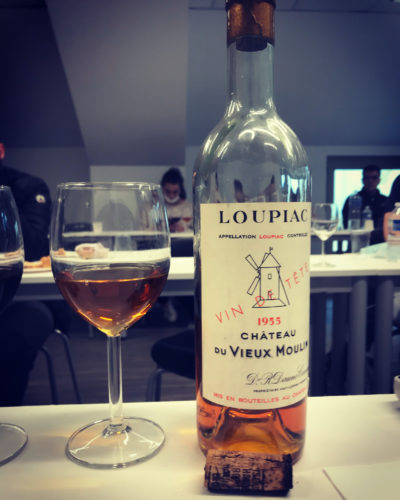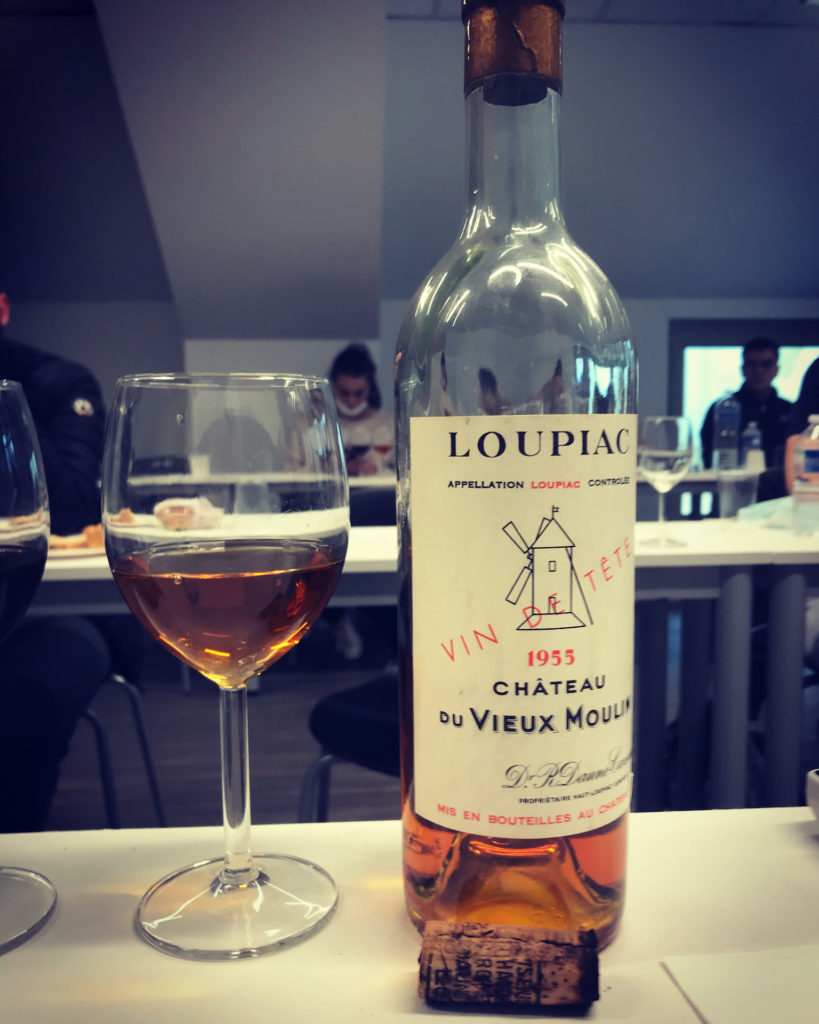 Yes, I never cease to speak about these extraordinary wines, not famous now, but which will return, I am sure, to the front of the spotlight:  Even in the darkness their golden robes will never cease to shine !

See you next year for a new edition, but see you soon to continue tasting these magnificent sweet wines !
Xavier LACOMBE