Pour cette année 2020 je n'ai malheureusement pas eu le temps d'organiser un événement comme l'année dernière (voir l'évènement 2019 en cliquant ici) mais je n'ai pas délaissé les vins sucrés au mois de Février pour autant. Ceux qui me connaissent savent que je ne les délaisse jamais!
Pour mon Sweet February 2020 je me suis donc laissé aller à une expérience, et qui plus est une expérience en adéquation avec une consommation modérée: j'ai ouvert le 1er Février une bouteille de vin de Sauternes et je l'ai conservée tout le mois et plus: la même bouteille, ouverte, un mois et demi durant, pour différentes occasions. L'occasion parfaite pour tester différents accords mets et vins.
Si j'ai choisi de faire cette expérience c'est pour vous parler de la formidable conservation de ces vins et de parler un petit peu cuisine.
Pour l'expérience j'ai choisi Château Guiraud 2006, appellation Sauternes (notez que cet article est écrit de manière libre sans aucun partenariat). Si le cœur vous en dit essayez ce même vin il est top. Mais l'expérience devrait vous apporter également de très bon résultats avec votre Sauternes favori, ainsi que d'autres appellations comme Loupiac, Monbazillac, Coteaux du Layon… 
For the Sweet February 2020 I unfortunately did not have time to organize an event like in 2019 ( if you want to take a look about the 2019 Sweet February just click here) but I did not abandon the sweet wines in February for that reason. Those who know me know that I never abandon them!
So for my 2020 Sweet February  I decided to try an experience, allowing a pairing with a moderate consumption: I opened on February 1st one bottle of Sauternes and kept it all the month and more: the same bottle, opened, a month and a half during, for different occasions. The perfect way to test and taste different wine pairings.
The reason I chose to do this experiment is to talk about the great conservation of theses wines and to talk a little bit about cooking.
For the experience I chose the 2006 of Château Guiraud, from Sauternes appellation (note that this article is written freely without any partnership). If you want you can try this wine it is great. But the experience should also bring you very good results with your favorite Sauternes, as well as other appellations like Loupiac, Monbazillac, Coteaux du Layon…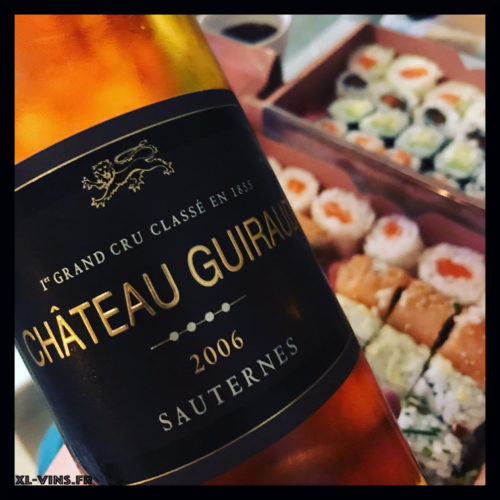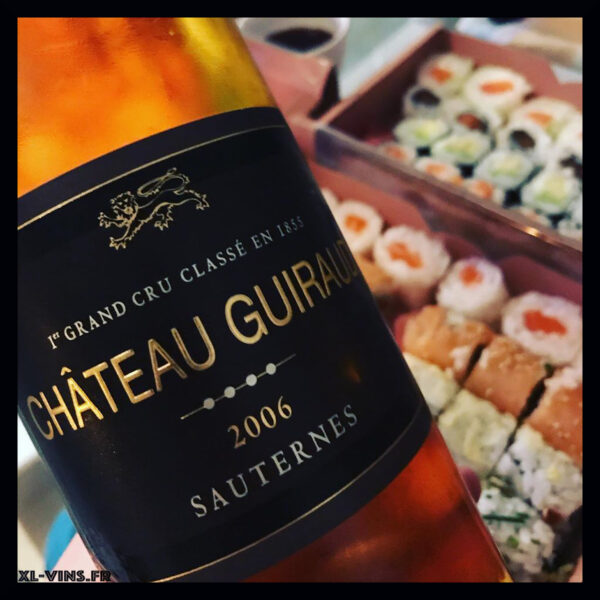 1 er Février 2020:  Soirée Sushis: 
Je suis un inconditionnel de l'accord Sushi-Champagne mais Sauternes offre une très belle variante, particulièrement si comme moi vous êtes un amateur de la sauce sucrée avec vos sushis (ou makis). Si tel est le cas je suis pratiquement sûr que vous aimerez cet accord. 
Au niveau du millésime ne choisissez pas un millésime trop vieux, il faut du peps et de l'acidité. Vous pouvez donc essayer avec un millésime plus récent. J'ai pour ma part choisi un vin d'une dizaine d'année comme le millésime 2006 car il présentait quelques notes d'évolutions et notamment de miel, mais conservait encore une grande fraicheur (ce vin pourrait encore vieillir plusieurs décennies sans aucun problème). 
February 1, 2020. Sushi Night:
I am a big fan of the Sushi-Champagne pairing but Sauternes offers a very nice variant, especially if like me you like the sweet sauce with your sushi (or makis). If that's the case, I'm pretty sure you'll like this pairing. 

For the vintage do not choose too old, you need pep and acidity. So you can try with a newer vintage. For my part, I chose a wine about ten years old like 2006 because it presented some notes of evolution, especially honey, but still kept a great freshness (this wine could still age several decades without any problem).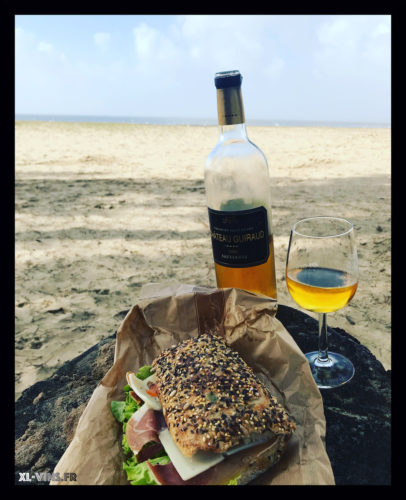 14 Février 2020. Déjeuner improvisé :
Les accords les plus simples sont souvent les meilleurs: un sandwich au jambon de Bayonne avec un verre de Sauternes. Rien à signaler concernant l'évolution du vin en bouteille. 
L'accord fonctionne, c'est simple, efficace et bon ! A noter que l'air iodé offre une sensation très agréable lors de la dégustation, il donne l'impression de trancher la matière et décuple les arômes du vin.  
(note: attention à la consommation d'alcool sur le domaine public)
20 Février 2020 : 
Dégustation d'un seul verre tout simplement en fin de journée. Pas de traces de défauts notables me faisant dire qu'il faudrait que j'abrège mon expérience. Seul constat critique : le niveau de la bouteille !
February 14, 2020. Improvised picnic:
The simplest pairings are often the best. In front of the beautiful Bassin d'Arcachon, great to experiment a ham Bayonne sandwich with a glass of Sauternes. Nothing to mention about the evolution in bottle. 
This pairing is simple, efficient and good! Note that the iodized air offers a very pleasant sensation during the tasting, it gives the impression of slicing the wine and express the aromas of the wine. (note: attention to alcohol consumption in the public domain)
 February 20, 2020: 
Just one simple glass at the end of the day. No noticeable defects making me say that I should shorten my experience. Only critical observation: the level of the bottle !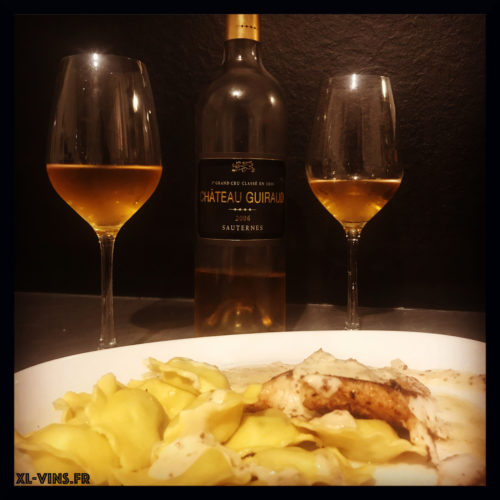 25 Fevrier 2020. Ravioles, sauce cabillaud, sauce moutarde et citron: 
Accord réussi mais pas exceptionnel. La fraicheur du vin arrive à contrebalancer la sauce bien qu'onctueuse et piquante. Les notes de citron apportent une certaine cohérence. C'est correct mais pas transcendant.
February 25, 2020. Ravioli, cod sauce, mustard and lemon sauce:
Good agreement but not exceptional. The freshness of the wine allows a certain balance with the creamy and spicy sauce. The notes of lemon bring some coherence. This is correct but not transcendent.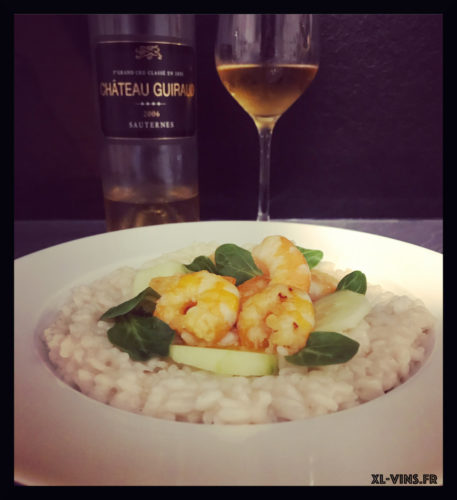 14 Mars 2020. Risotto aux crevettes flambées au Cognac:
Voilà un très bel accord ! Le vin s'accorde parfaitement avec le Risotto. Il arrive à trancher le côté crémeux du Risotto. A noter toutefois que le côté fruité du vin commence à s'estomper au profit de notes vanillées et toastées. Le vin est ouvert depuis un mois et demi au frigo ! Cela reste très agréable d'autant plus que mes crevettes avaient été flambées au Cognac ! Il y'a donc ici un intéressant rappel.  
March 14, 2020. Risotto with Roasted Shrimp with Cognac: 
Here is a very nice pairing! The wine goes perfectly with the Risotto. It cuts the creamy texture of the Risotto. However, the fruitiness of the wine begins to fade in favour of vanilla and toasted notes. Consider that the wine is open since a month and a half in the fridge ! Nethertheless it is still very pleasant, especially because my shrimps had been roasted with Cognac ! There is some coherence between toasted notes and the roasted shrimps. This pairing is very interesting.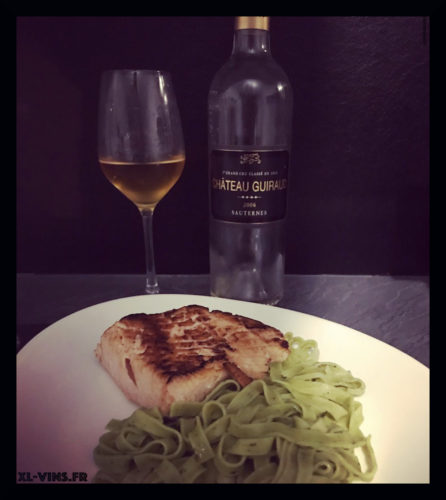 17 Mars 2020. Saumon sur lit de pâtes au Basilic:
Je termine ma bouteille et par conséquent mon expérience avec un dernier accord sur des pâtes au basilic et un pavé de saumon grillé. Malgré une difficulté entre les pâtes et le vin l'accord se défend plutôt bien particulièrement grâce au saumon qui est légèrement grillé. 
March 17, 2020. Salmon and pasta with basil:
I finish my bottle and therefore my experiment with a final pairing on basil pasta and a grilled salmon. Despite some difficulties between the wine and pastas this pairing is pretty well defended, particularly because the salmon was lightly grilled. 
 La même bouteille aura donc duré plus d'un mois et demi, pour 6 occasions différentes et 5 plats différents. On peut dire que le prix d'achat de ma bouteille est ici plus que rentabilisé ! Je ne pensais pas que cela serait aussi convaincant. Les vins sucrés sont ceux qui se conservent le mieux une fois ouvert de part leur composition sucrée.
Les vins sucrés permettent d'être en cohérence avec une consommation raisonnée tout en favorisant le plaisir gustatif en vous permettant de varier les accords gastronomiques sur une longue période avec une seule et même bouteille. N'hésitez pas à me parler de vos accords mets-vins avec les vins sucrés!
Je parle ici de Sauternes car je suis de la région bordelaise et que j'ai Sauternes dans le coeur, mais toutes les autres appellations sont les bienvenues comme en témoigne cette dégustation de vins sucrés que j'ai aussi effectué durant le mois de Février : 
The same bottle lasted more than a month and a half, for 6 different occasions and 5 different dishes. We can agree that the price of my bottle is more than profitable! I didn't think it would be as convincing. Sweet wines have the best preservation once opened because of their sweet composition.
The sweet wines allow to stay cohérent with a reasoned consumption. They promote a tasting pleasure by allowing you to vary the gastronomic pairings with the same bottle on a long period. Don't hesitate to tell me about your food-wine pairings with sweet wines!
I am talking here about Sauternes because I am from the Bordeaux and I have the Sauternes area in my heart, but all the other appellations are welcome ! Consider this tasting of sweet wines that I also carried out during the month of February: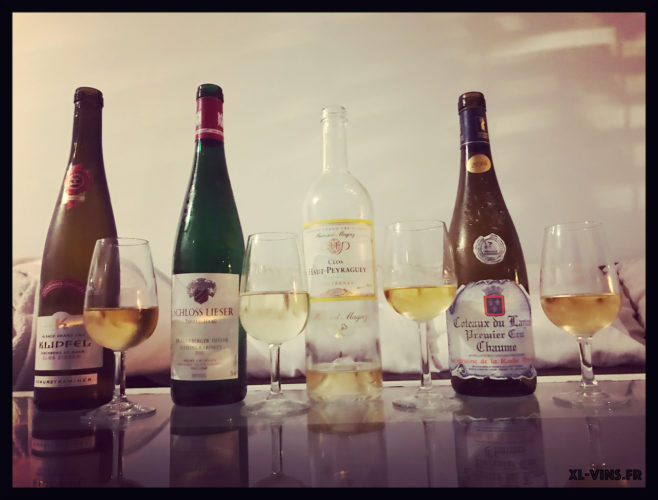 Si le sujet accord mets et vins sur Sauternes vous intéresse voici quelques liens :
Si vous êtes un domaine, un organisme ou autre et que vous souhaitez prendre part au Sweet February 2021, n'hésitez pas à me contacter, il y a  de nombreuses choses à faire ! 
Xavier LACOMBE 
Pour revoir le Sweet February 2019 cliquez-ici. 
If you are interested by food and wine pairing with Sauternes wines, here are some links:
Château de Fargues with beautiful recipes including asparagus: click here
Château Guiraud and its Restaurant named La Chapelle:

click here


Château Lafaurie Peyraguey with its gastronomic Restaurant Lalique (2 stars Michelin Guide): click here
And to finish a classic of the history of French gastronomy: Maité, who in her show cooks a sturgeon with the Bordelaise and the video jumps of the years 1993: click here
If you are a domain, an organization or something else and you want to take a part in the next Sweet February (2021), do not hesitate to contact me, there are many things to do! 

Xavier LACOMBE 
To review the Sweet February 2019 click here.