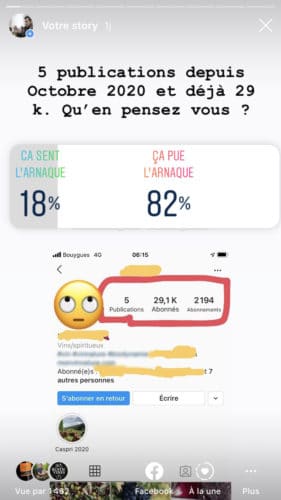 « 5 publications since 2020 October and already 29 000 followers. Do you think it is normal ? « 
Fake wine influenceurs  ! You may be wondering how this person you have never heard, with classic and common contents, may be followed by thousands of followers?
I have often read this question, listened to people asking what the real existence of these people living on networks is, and we have never seen  in the real life. This is even a question that some people have asked me!  Such a nerve ! 😉 If you want to read more about me you can click-here. 
More seriously there are many different answers and as often you can find everything everywhere. 
Don't be paranoid  !
Some people have real interactions with engaged communities. It took years to grow, with real background work, daily involvement in creating content, etc. Others, use more expeditious and frankly dishonest methods. If the concept of cheating is debatable, I am talking about the two practices that are the worst for me, and that nothing can excuse: buying accounts with X thousands of already existing/ghost followers that have nothing to do with the topic you want to develop, and buying ghost followers/likes, where you pay to have XXX likes to your photo. There again : zero meaning !
Fake influenceur : who ?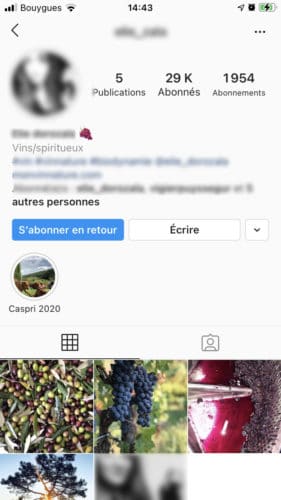 These practices exist and affect all universes and social networks, not just Instagram. Facebook, Twitter etc. are also concerned. Similarly, do not think that it is only unknown individuals seeking notoriety who use them. These practices are used by some unscrupulous Community Managers, some brands or others.
Another thing to clarify is that the social networks of the world of wine are rather spared by this trend, wine being considered a «niche» which must be dealt with the restrictive framework of the Evin Law (for France). Therefore the partnerships that you can hope to contract as a wine influencer are ridiculous compared to other circles like fashion. If it was your goal, first advice, you can forget the world of wine, it is not profitable : the same community in another theme makes you more profits ! 
So a lot of profiteers are not interested in it, they will naturally look elsewhere.
To learn more about best practices for the wine influencer, I decided to create another article that you will soon find here.
Fake wine influencers
I have long chosen not to get into the "fake influencer" debate because I am more interested in promoting producers and wines than anything else.
And then one day the drop of water that makes the vase overflow ! A new profile on Instagram has just subscribed to my account. I look that : it has a significant number of over 29,000 followers. Quite impressive. But what is even more impressive, and frankly bizarre, is that this account only totals 5 publications. Looking at these publications, I realize they are all news.
But it is also true that some accounts publish and then delete their publications.This practice is not widespread in general, but it exists, and it must be kept in mind.In the world of wine this practice is extremely rare, in fact I do not know any, but I do not pretend to know everything (contact me if you know any, it interests me).
A link to another Instagram account is present on this account. I check it. It has many publications (90). It is the same person, but the number of followers differs greatly: 6000 for 3000 followed (approximately).
It is clear: this account of 29,000 followers was probably bought and the person quietly transfers its old account to the new one, much more attractive !
I am flabbergasted by such a rude act. I decide to contact the person by private message. No response. I insist on the other account of the person. Finally, I get the following answer: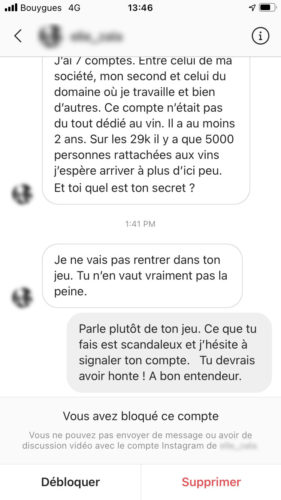 « I have 7 accounts, between that of my company, my second and that of the domain where I work. This account was not at all dedicated to wine. He is at least two years old. Of the 29,000 there are only 5,000 people connected to the wine. I hope to arrive at more soon. And you what is your secret ? »
And that's what I thought. But I'm shocked that the person is trying to lead me on and seems to think that's normal.
29000 followers for 5 common publications  = fake influencer !
I hesitated : should I denounce this act? A small voice tells me not to get involved in this, but another one encourages me to highlight this kind of action, because with time all the people who are sincerely active on Instagram will lose.
The accounts that many created years ago, which took thousands of hours of work, risk losing their credibility to people with no integrity. Fortunately, and I insist, this is a minority. But a minority can hurt an image very much, the different scandals that break out every day are the illustration.
Using communication strategies to increase the reach of his audience, I fully understand that. Some are also debatable. On the other hand, buying already-made,  fake accounts and transferring your content on them is like buying fake ID documents ! And buying fake followers that don't exist is like paying extras to cheer on all your jokes… It's more than dishonest, it's pathetic and grotesque.  
Fake wine influencer : signal and unfollow them ! 
I gradually asked my community about this practice via IG stories. The returns were extremely numerous and I was impressed because I had masked the identity of the account but at least two people managed to identify it anyway!
The person in question contacted me later by private message not really happy. It was too much, I would post it on Instagram and reveal its accounts to my communities.
This created a lot of reactions! (by the way, here is the curve of the famous  hypeauditor account which allows to judge the relevance of an account. Attention, because here again, these data do not mean everything. Thanks to Diane,Dalkia loves wine for the link ).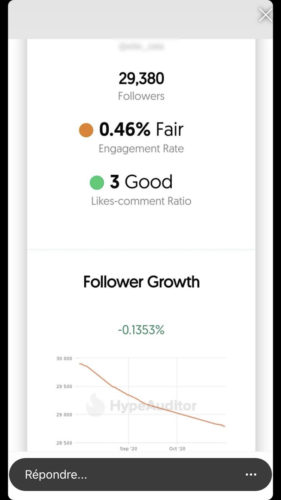 I chose in this post not to give back the name of this account and to hide personal pictures. I hope his accounts will be deactivated on Instagram, but I also want to believe that people can make mistakes and then change. Meanwhile my community is advised. 


Xavier LACOMBE