Wine Influenceur :10 euros to avoid
Wine Influenceur : The 10 errors that you should avoid !
Following my previous article on fake wine influencers that you can find here, I decided to extend the idea by offering you some basic tips if you want to share on social networks, and especially on THE current network: Instagram.
I would like to insist : this is just advice. You are free to do and think what you want. Of course ! I only share my experience to you. Take only what you think is relevant !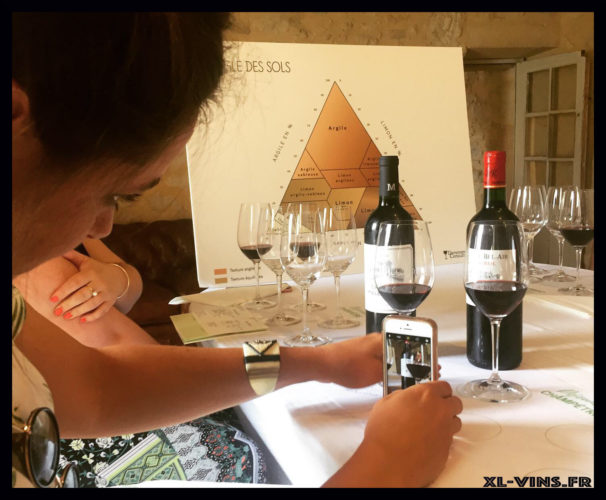 Here are for me the main errors that you should consider to avoid being banished from Instagram (and on the other social networks) :
1) Do not buy fake accounts with ghost followers.
It will come out sooner or later. Your image can be badly impacted. Moreover, you could be banned from Instagram, which fights against these practices by tracking these accounts.
2) Do not buy fake followers and likes.
For the same reasons that point 1.
3) Do not use bots (robots in charge to grow your activity).
For the same reasons that points 1 and 2. In addition to this, you may lose the connection with your previously established community: some of your subscribers will not like that you subscribe, then unsubscribe, and this several times in a row. Your natural commitment can be affected since you delegate actions to a robot/software that will end up liking or commenting on everything and anything (not good to like a vulgar content when you are the Community Manager of a big luxury brand!). Your feed could also become less interesting. Of course the bots are changing, the parameters are getting better, but what about your personal involvement in the networks? Instagram also seeks to combat this use, and any suspicious use will penalize the scope of your account in a more or less prolonged manner.
4) Do not rob/copy the content of other accounts !
If you want to repost content created by someone else, contact before that person, and if you publish with their consent, do not forget to mention it. Would you appreciate if someone take the content that you are proud of, and which asked you to do a lot of compositional work? No!! So don't use other people's content without their consent. The « Repost » application allows you to add the link of the original account on the picture, after to be allowed to use it.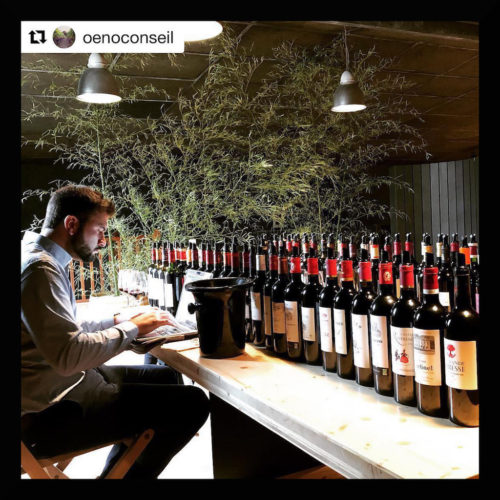 5) Do not incite deviant behaviour and banish hate speech.
You could sometimes be tempted to let go behind your screen. Before publishing something on the networks ask yourself the questions: Does it harm anyone ? Will I assume my words in front of the person in question? The night often gives you some advices…
6) Respect the laws of your country and specify the legal notice.
Be alert to the Evin Law (in France), mention your paid partnerships in your publications for more transparent informations with your community: with #ad #partnerships and the current health message. (This list is not exhaustive, there are other constraints for the wine influencer according to your country).
7) Do not put yourself in situations that could harm you.
Take care of your image, take care of yourself ! You are, of course, free to do and show what you want, as long as it does not violate the rules of the platform. But that's just one piece of advice: you should avoid, for example, posting a photo of yourself vomiting after a party. It could be problematic for you if you decide to enter in politics many years later.Think about the future… who knows? You may be our future president ! 😉
8) Do not accept irrelevant partnerships.
If you are a wine blogger, accepting a partnership for a cosmetics, watches, or other brand, doesn't make much sense.You risk losing consistence, and consistency is important. But, with creativity many things are possible ! You can imagine a content where the wine is in the background with a watch in the foreground, plus a parallel with the notion of temporality.
9) Stay consistent with your feed : don't be off topic.
Same as point 8, a consistent feed is important if you do not want to lose the interest of your audience. For example, if your content is focused on wines, but you suddenly start publishing only video game content, you will no longer interest the same audience. It can exceptionally pass if you come back later to your basic subject. Again, free to you.
10) Do not sell your price !
Some partnerships that brands will propose to you, have many constraints/ requirements for a ridiculous remuneration, often zero. It maintains all of the partnerships down and doesn't give you the fair value of your work, which is quality, and takes time. Don't underestimate the reach of your audience, even if you have less than 5,000 followers! Receiving free bottles is nice, of course, but very quickly it will seem more profitable to buy your own bottles rather than having to take more and more time to meet the requirements of some companies… for a remuneration still as zero !
Wine influencer : important to retain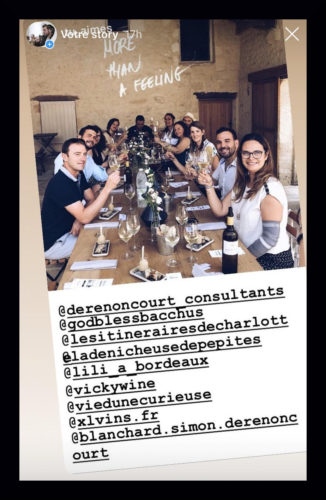 (Instagram Picture by @tu_aimes)
Instagram, like all social networks, is constantly evolving. Some practices are at risk because they violate the term of uses. Other practices can harm you. By using these methods you are taking a big risk with regard to your account, but also with regard to your credibility.
If this article has been useful to you, do not hesitate to share it ! Do not hesitate to contact me if you want to develop some topics.
If you are a domain and want to expand your audience on the networks, you can also visit my communication website Communowine.fr .
See you soon on the social networks and in the real life !
Xavier LACOMBE (@xlvins)