The 33rd edition of the Académie des Vins Anciens (academy of ancient wines) organised by François Audouze was held in Paris in November 2019. 
For my 4th participation I still do not regret coming especially for this event, and the least we can say  is that the sessions follow each other but do not look alike!
It is always a great pleasure to travel to Paris to participate in this unique event: What will be the bottles? Who will be present? Will my contributions be acceptable for this event?
Here are the three bottles of my personal contribution:
 – Champagne Monopole Heidsieck without vintage ( bought wit an old stock of Champagne from the 60's)
– Château Vieux Moulin 1955, Loupiac appellation
– Château Lestage Darquier 1955,  Moulis appellation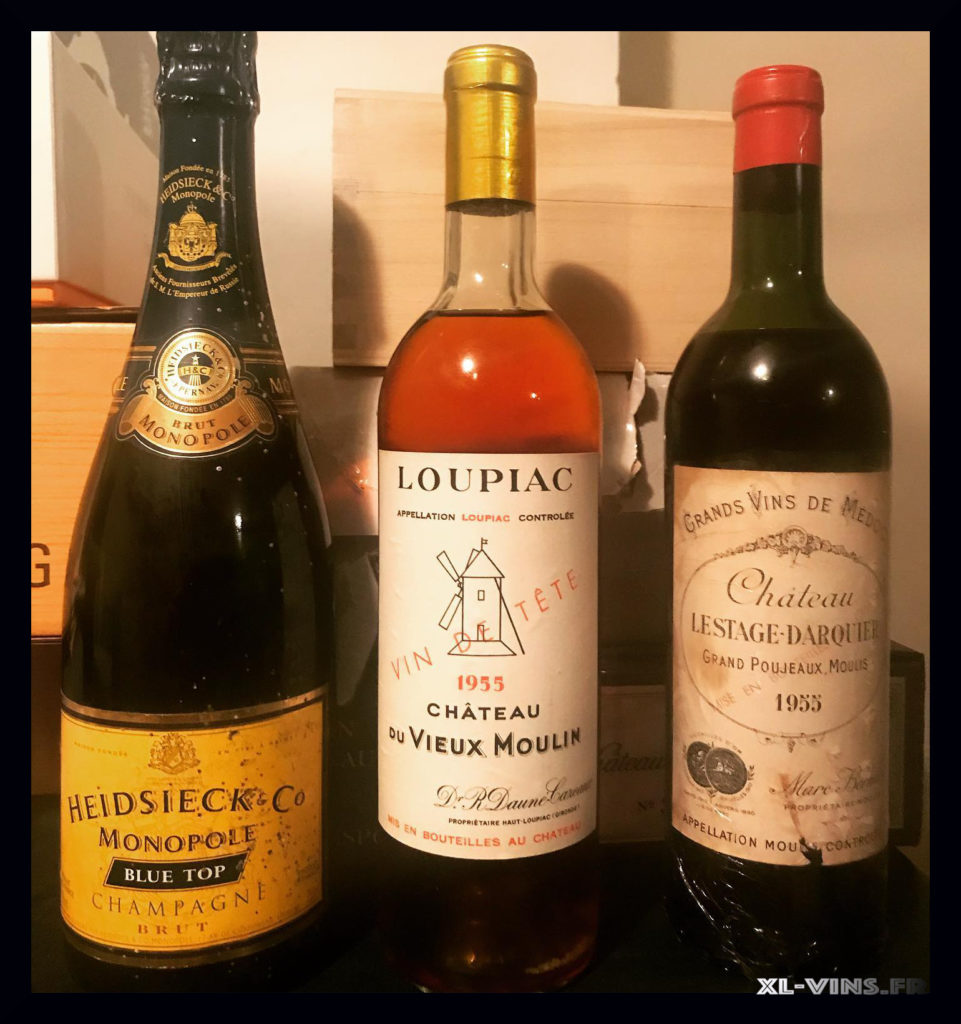 When I arrive, my eyes looking for the bottles are very impressed. Inevitably one is more obvious than the others with its green label: it is 1965 of La Tâche from the prestigious Romanée Conti. A mythic wine I never had the opportunity to taste! 
But looking closer, there are other exceptional wines like 1966 of Château Yquem, 1974 of Château Palmer and certainly the one that impresses me the most at the moment: 1929 of Château Pontet-Canet in an incredible conservation grade.
One thing to remember here is that labels and big names are a fact, but behind these heavyweights are outsiders that the Academy likes to highlight and that do not have to blush in front of these big names.We can mention among others the famous Algerian wine of Frédéric Lung which offers a remarkable regularity in the excellence though the sessions. 
I tasted the wines from my table (number 3) but I couldn't resist to taste some wines from the other tables. This is also and especially the spirit of the Academy: sharing!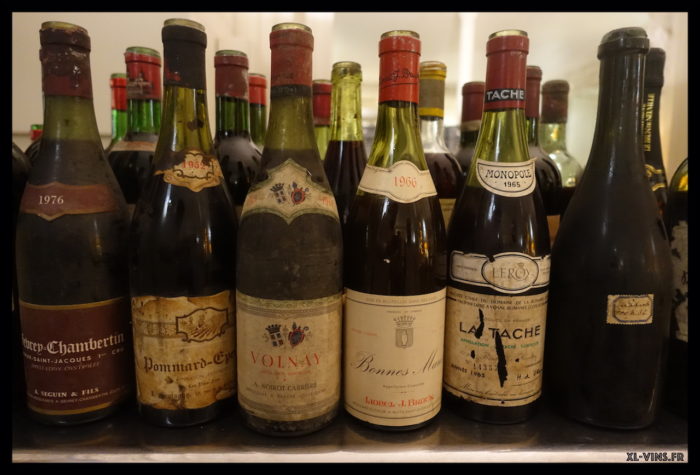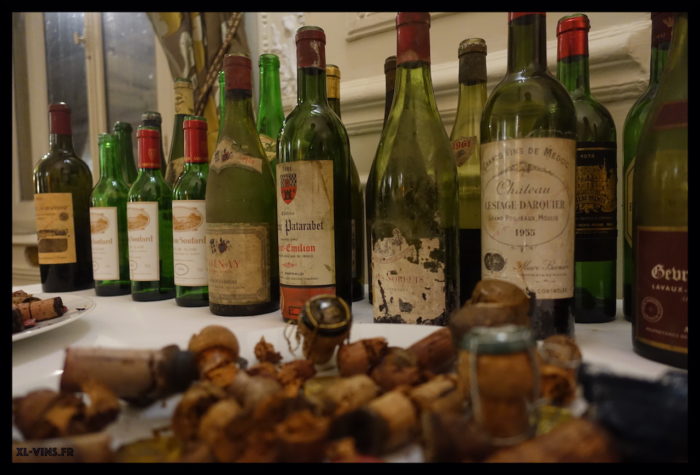 Académie des Vins anciens : The wines
Champagne Monopole Heidsieck (no vintage)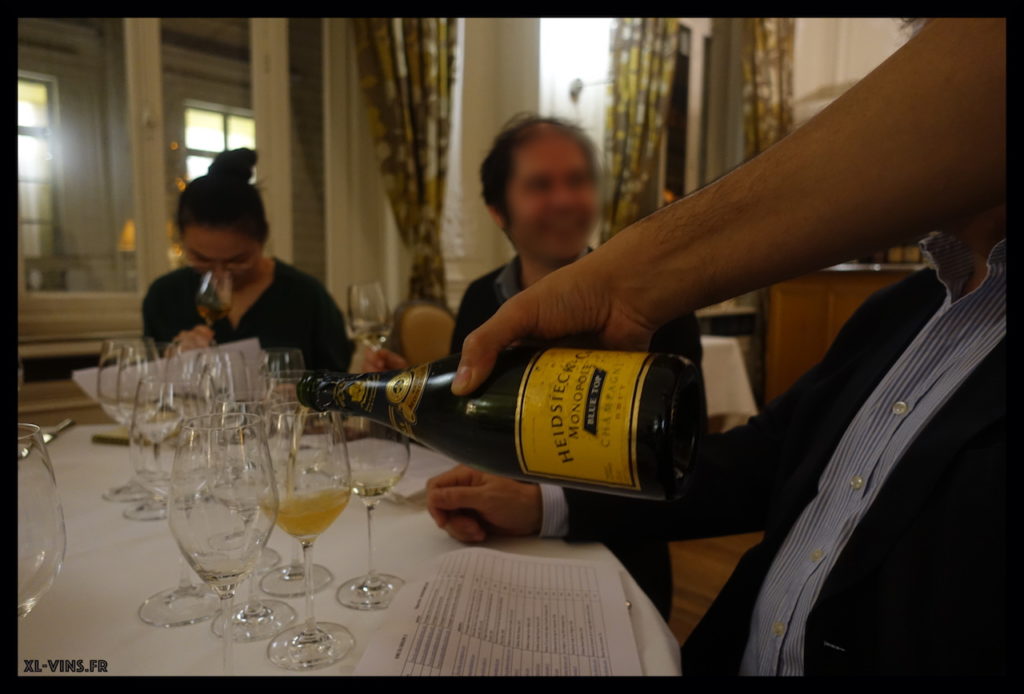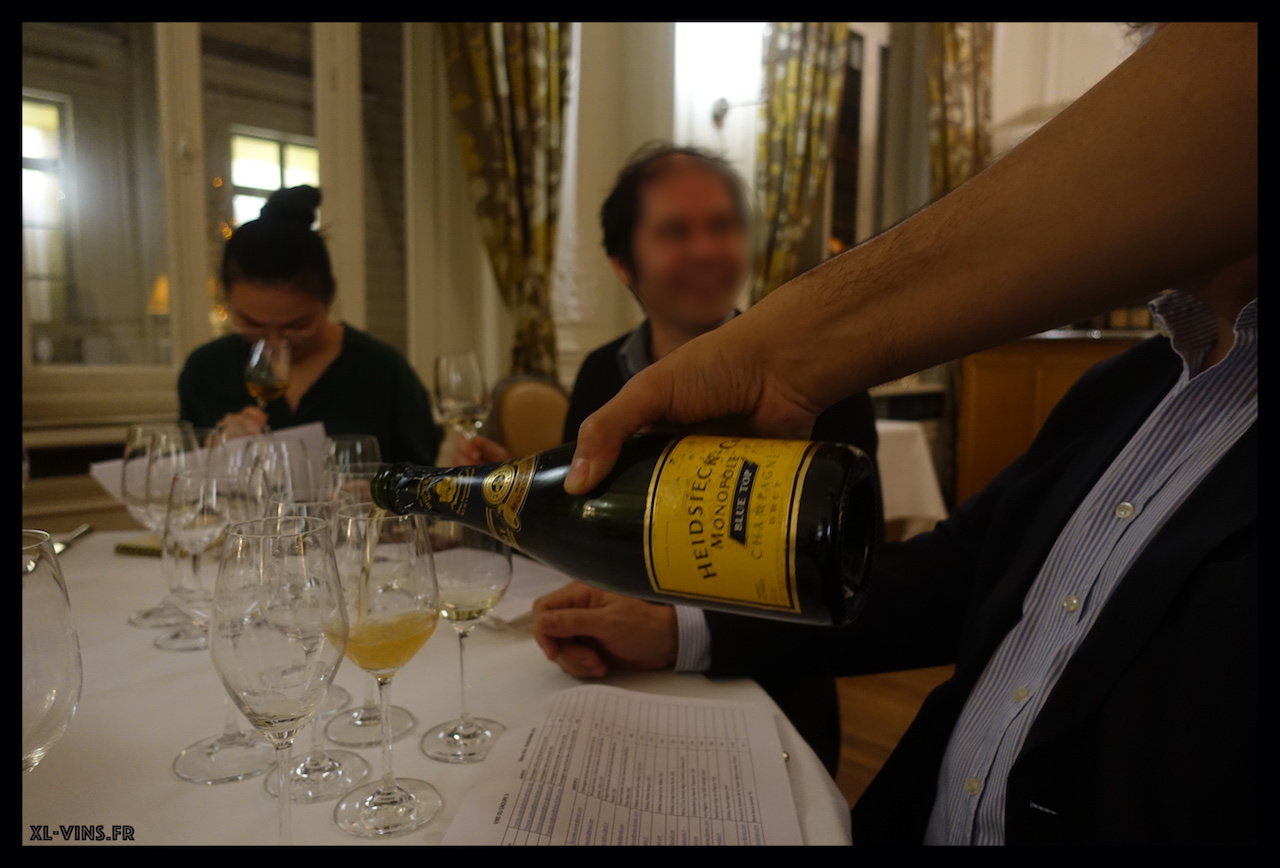 This Champagne has not really any bubbles on the appearance but the brillant golden color is beautiful.The nose is very expressive on notes of stone fruits, dried apricots. On the palate a slight effervescence appears with peps but it is especially the complexity and finesse that impress! Long length  with a lot of freshness, this Champagne rather considered as an outsider was a very pleasant surprise.
Clos de la Pucelle, Domaine Denoune-Naudin 1961, appellation
Puligny-Montrachet
First complex nose, a light note of wet cardboard is perceptible but behind is expressed a lot of complexity and a great deepness that invites to continue. Very nice texture on the palate with notes of hazelnuts, dried fruits, apricots. Nice freshness on the length, this wine does not make its age. The notes of hazelnuts grow and a slight undergrowth develops. The length increases itself and at the end of the meal this wine develops an exceptional nose, exempt of faults with very fine notes of hazelnuts. Magic!
Domaine Weinbach Théo Faller,
Clos des Capucines

1989 (

Gewurztraminer)
Powerful scents evoking petrol mix with different varieties of apples. On the palate a few sweet notes appear. This wine is particularly suitable with the mushroom cassolette served at the same time because we also find some notes of sous-bois. The bouquet develops quite exceptional rose flower notes: successful marriage of intensity and finesse.
Château Palmer 1974, appellation Margaux
A very powerful wine at first sight. The nose evokes leather and strong smoky notes. On the palate the harshness of this wine is  very present but behind the fruits guessed themselves in watermark. Pretty red fruits appear slowly as the wine opens. It needs time. On the palate the length has a particular intensity and thanks to its elegance who counterbalances with a brutal attack.
Château Lestage, appellation Listrac (Médoc) 1967
Dried red fruits dominate the whole. Beautiful texture on the palate, delicate, allowing a fresher fruit  to be expressed in a surprising way on the length. Gradually what was dry becomes fresh and it ends in a rather intense length. Nice.
Château Lestage Darquier, appellation Moulis (Médoc) 1955
Very nice balance from the first nose. It is very fine, a majority of dried red fruits are noticeable, especially  red plum. As time goes on, some of them appear fresher. The finish is rather fine and long, nice surprise!
Morey (?) Les Sorbets, négoce, probable 1959
Beautiful nose from the start and very nice notes of strawberries and raspberries. It is elegant and fine. The texture on the palate is beautiful, very elegant, and the finish, yet very fine, plunges us in a delicious way. A delicacy dessert, like a fruit tart (or sorbet!) .
Châteauneuf- du-Pape M. Chapoutier 1956
Very nice tension on the first nose. Red fruits like strawberries are quickly switched to a salty note and fine notes of sous-bois. Very nice texture on the palate, superb and great finesse of the tannins and long length. Very beautiful.
Frédéric Lung 1920, vin d'Algérie (niveau vidange)
Emptying level. Notes of black fruit, plums, and a very present roasted side. This wine is destabilizing because it does not change. A lot of balance, it seems timeless and you never get tired of it.
La Tâche 1965, Domaine de la Romanée Conti
Deep nose which a slight floral note seems to be distinguished. At the same time fruity, powerful and elegant. The length is beautiful but marked by its power. It takes the step on the floral notes and it is quite regrettable. 
For my first « La Tâche » it was not a heart crush. Perhaps I expected too much? Most people who have tasted this wine will say that something was lacked, something that characterizes « La Tâche ». Therefore I have to wait for another opportunity!
Château Rayne Vigneau 1947, appellation Sauternes
Beautiful and enchanting notes of dried herbs, quince and honey. Lots of freshness on the palate and admirable length. This wine has a formidable complexity. It is really brilliant and you will never tired of it. This wine can and will pass through time in a remarkable way. I hope to have the chance to taste it again in a few years.
Château Yquem 1966, appellation Sauternes
The nose is a little bit soft compared to an exuberant palate.
The notes of candied fruit, apricot, peach and honey gradually rise and it makes the difference.
The finish is a real partition, very long and complex.
Among them nice notes of dried herbs interspersed with white pepper catch my attention.
 Close to
Paradise.
Château Pontet-Canet 1929, appellation Pauillac
Nose dominated by abundant notes of truffles. On the palate the texture is worthy of the finest velvet. At the same time soft but also sifted, patinated by the time. And it is only more beautiful. There is in this wine a formidable tension, chocolate and roasted notes, that are impressive and beautifully blended with the fruits. It is divine. 
100/100
Without pictures I could also taste:
The 1955 Cristal Roederer Champagne with its cloudy brown appearance. Disturbing on the palate thanks to its notes of almonds mixed with ferruginous notes! It was something quite exceptional I had never drunk a wine like that. ( Noticed: a lot of deposits). 
 Chablis 1921 which offered a lot of emotion. A solemn wine. 
The enigma : Nebbiolo 1900
Finally here is a wine that have made much talk during this Academy: An antic Nebbiolo, probably from 1900. Some pronostics of the most connoisseurs leaned even for a previous year. 1890? 1880? 1850? The mystery will remain but I wanted to share you this photo of the glass quite exceptional. As if all the color pigments were detached from the liquid (end of bottle). I had never seen this before and I might never see it again. Magic of the Academy.