For the 2020 Sweet February I unfortunately did not have time to organize an event like in 2019 ( if you want to take a look about the 2019 Sweet February just click here) but I did not abandon the sweet wines in February for that reason. Those who know me know that I never abandon them!
So for my 2020 Sweet February I decided to try an experience, allowing a pairing with a moderate consumption: I opened on February 1st one bottle of Sauternes and kept it all the month and more: the same bottle, opened, a month and a half during, for different occasions. The perfect way to test and taste different wine pairings.
The reason I chose to do this experiment is to talk about the great conservation of theses wines and to talk a little bit about cooking.
For the experience I chose the 2006 of Château Guiraud, from Sauternes appellation (note that this article is written freely without any partnership). If you want you can try this wine it is great. But the experience should also bring you very good results with your favorite Sauternes, as well as other appellations like Loupiac, Monbazillac, Coteaux du Layon…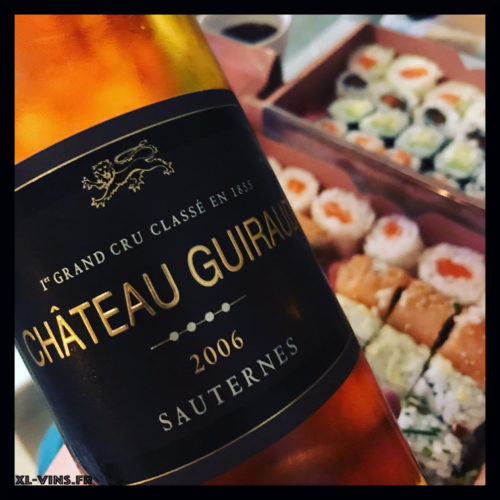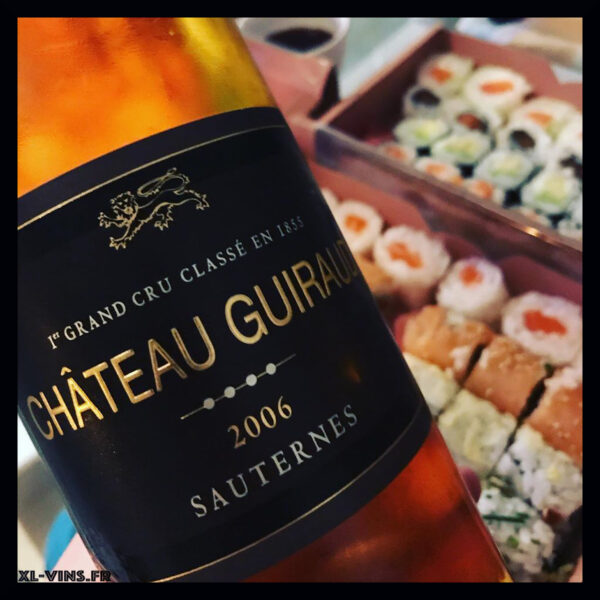 February 1, 2020. Sushi Night:
I am a big fan of the Sushi-Champagne pairing but Sauternes offers a very nice variant, especially if like me you like the sweet sauce with your sushi (or makis). If that's the case, I'm pretty sure you'll like this pairing. 

For the vintage do not choose too old, you need pep and acidity. So you can try with a newer vintage. For my part, I chose a wine about ten years old like 2006 because it presented some notes of evolution, especially honey, but still kept a great freshness (this wine could still age several decades without any problem).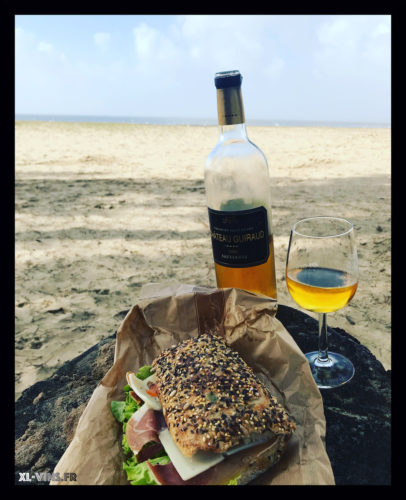 February 14, 2020. Improvised picnic:
The simplest pairings are often the best. In front of the beautiful Bassin d'Arcachon, great to experiment a ham Bayonne sandwich with a glass of Sauternes. Nothing to mention about the evolution in bottle. 
This pairing is simple, efficient and good! Note that the iodized air offers a very pleasant sensation during the tasting, it gives the impression of slicing the wine and express the aromas of the wine. (note: attention to alcohol consumption in the public domain)
 February 20, 2020: 
Just one simple glass at the end of the day. No noticeable defects making me say that I should shorten my experience. Only critical observation: the level of the bottle !
February 25, 2020. Ravioli, cod sauce, mustard and lemon sauce:
Good agreement but not exceptional. The freshness of the wine allows a certain balance with the creamy and spicy sauce. The notes of lemon bring some coherence. This is correct but not transcendent.
March 14, 2020. Risotto with Roasted Shrimp with Cognac: 
Here is a very nice pairing! The wine goes perfectly with the Risotto. It cuts the creamy texture of the Risotto. However, the fruitiness of the wine begins to fade in favour of vanilla and toasted notes. Consider that the wine is open since a month and a half in the fridge ! Nethertheless it is still very pleasant, especially because my shrimps had been roasted with Cognac ! There is some coherence between toasted notes and the roasted shrimps. This pairing is very interesting.  
March 17, 2020. Salmon and pasta with basil:
I finish my bottle and therefore my experiment with a final pairing on basil pasta and a grilled salmon. Despite some difficulties between the wine and pastas this pairing is pretty well defended, particularly because the salmon was lightly grilled. 
The same bottle lasted more than a month and a half, for 6 different occasions and 5 different dishes. We can agree that the price of my bottle is more than profitable! I didn't think it would be as convincing. Sweet wines have the best preservation once opened because of their sweet composition.
The sweet wines allow to stay cohérent with a reasoned consumption. They promote a tasting pleasure by allowing you to vary the gastronomic pairings with the same bottle on a long period. Don't hesitate to tell me about your food-wine pairings with sweet wines!
I am talking here about Sauternes because I am from the Bordeaux and I have the Sauternes area in my heart, but all the other appellations are welcome ! Consider this tasting of sweet wines that I also carried out during the month of February: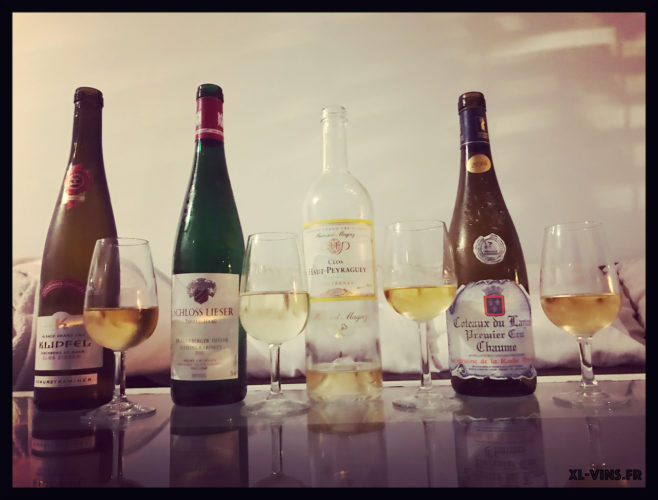 If you are interested by food and wine pairing with Sauternes wines, here are some links:
Château de Fargues with beautiful recipes including asparagus: click here
Château Guiraud and its Restaurant named La Chapelle:

click here


Château Lafaurie Peyraguey with its gastronomic Restaurant Lalique (2 stars Michelin Guide): click here
And to finish a classic of the history of French gastronomy: Maité, who in her show cooks a sturgeon with the Bordelaise and the video jumps of the years 1993: click here
If you are a domain, an organization or something else and you want to take a part in the next Sweet February (2021), do not hesitate to contact me, there are many things to do! 

Xavier LACOMBE 
To review the Sweet February 2019 click here.