The Crus Artisans Classification (Médoc)
The classification of Crus Artisans is a classification specific to the red wines of the Médoc area (left bank of Bordeaux). All the appellations of the Médoc can be represented, including the prestigious communal appellations of Margaux, Saint-Estèphe, Pauillac (the only one with no members for the moment), Saint-Julien, or Listrac and Moulis.
The definition of Crus Artisans has evolved over the years to become "a grouping of small and medium-sized autonomous vineyards, where the chief operating officer (the owner of the vineyards) actually participates in the management of his vineyard, produces AOC wines and markets his production bottled at the castle". (source: official website of the Crus Artisans). To be a Cru Artisan is therefore working from "A to Z "in its property, from the viticulture to the trade part through the vinification. Real "Swiss knives" but in the Médoc!
Today, Cru Artisan's label brings together some 40 properties. The classification is reviewed every 5 years to verify the continuity plus the implementation of the charter and quality criteria.
The actual list of Crus Artisans is just below. The domains are classified according to their appellations and then in the alphabetical order. The new classification will be organised in 2022.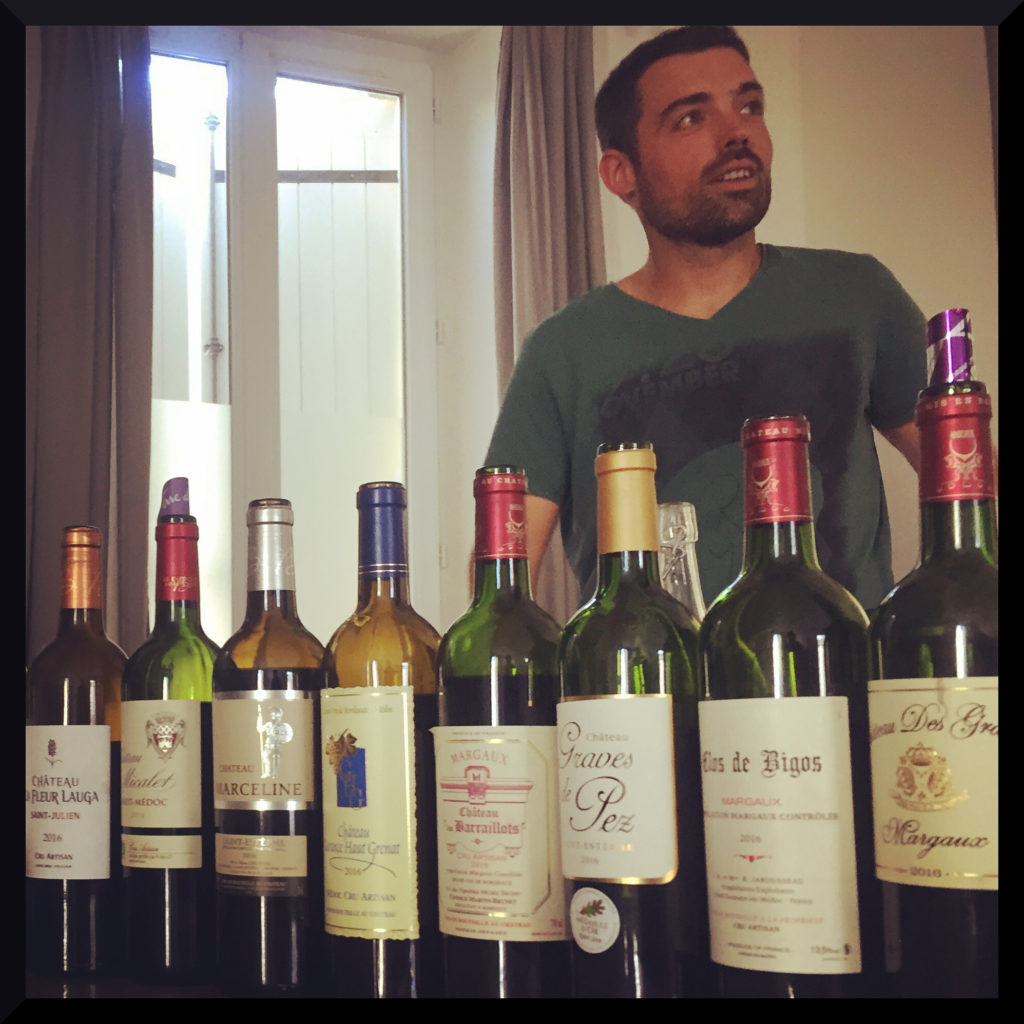 Appellation Médoc
Appellation Médoc: 
Château Andron 
Château Bejac Romelys
Château Gadet Terrefort
Château Garance Haut Grenat
Château Haut Brisey
Château Haut Couloumey
Château Haut-Blaignan
Château Haut-Gravat
Château La Tessonière
Château Les Graves de Loirac
Château Vieux Gadet
Appellation Haut-Médoc
Appellation Listrac
Appellation Margaux
Appellation Moulis
Appellation Saint-Estèphe
Appellation Saint-Julien
My articles about the Crus Artisans
My personal view about the Crus Artisans
In a region where the vineyard land reaches peaks, I find that the dimension offered by the Crus Artisans is simply brilliant !
These owners who do everything from A to Z could easily be won by the proposals of conglomerates to sell their vines.
But they continue and what keeps them going is their passion for wine. In this sense they have for me a capital sympathy and respect of 100% ! And the wines they produce offer very good value for money! I have many of them in my cellar, and in the different appellations of the Médoc.
Do not hesitate to visit them, the Médoc offers different facets, and the Artisans Crus, which we talk too little about, are definitely part of it!
To go to the official website of the Crus Artisans just click-here.
Xavier LACOMBE